10.23.19
Peters, Colleagues View Demo of School Bus Safety Technology, Highlight STOP for School Buses Act
Bipartisan, Bicameral Group of Lawmakers Mark School Bus Safety Week by Highlighting Efforts to Prevent Illegal Passing
WASHINGTON, DC – U.S. Senators Gary Peters (D-MI) and Todd Young (R-IN) and U.S. Representatives Jackie Walorski (IN-02) and Julia Brownley (CA-26) attended a school bus safety technology showcase hosted by the National School Transportation Association (NSTA) to highlight their legislation to prevent motorists from passing school buses stopped at loading zones. The event, which helped mark School Bus Safety Week, featured a school bus equipped with examples of technology used to prevent stop-arm violations.
"No parent should ever have to worry about their child being injured or even losing their life while waiting for or boarding their school bus," said Senator Peters. "We've seen a growing number of incidents that pose a risk to the safety of our students and we must take action. It's time for the Senate to pass the STOP for School Buses Act. I am hopeful that new technologies combined with a comprehensive review of best school bus safety practices will help dramatically reduce these tragic accidents."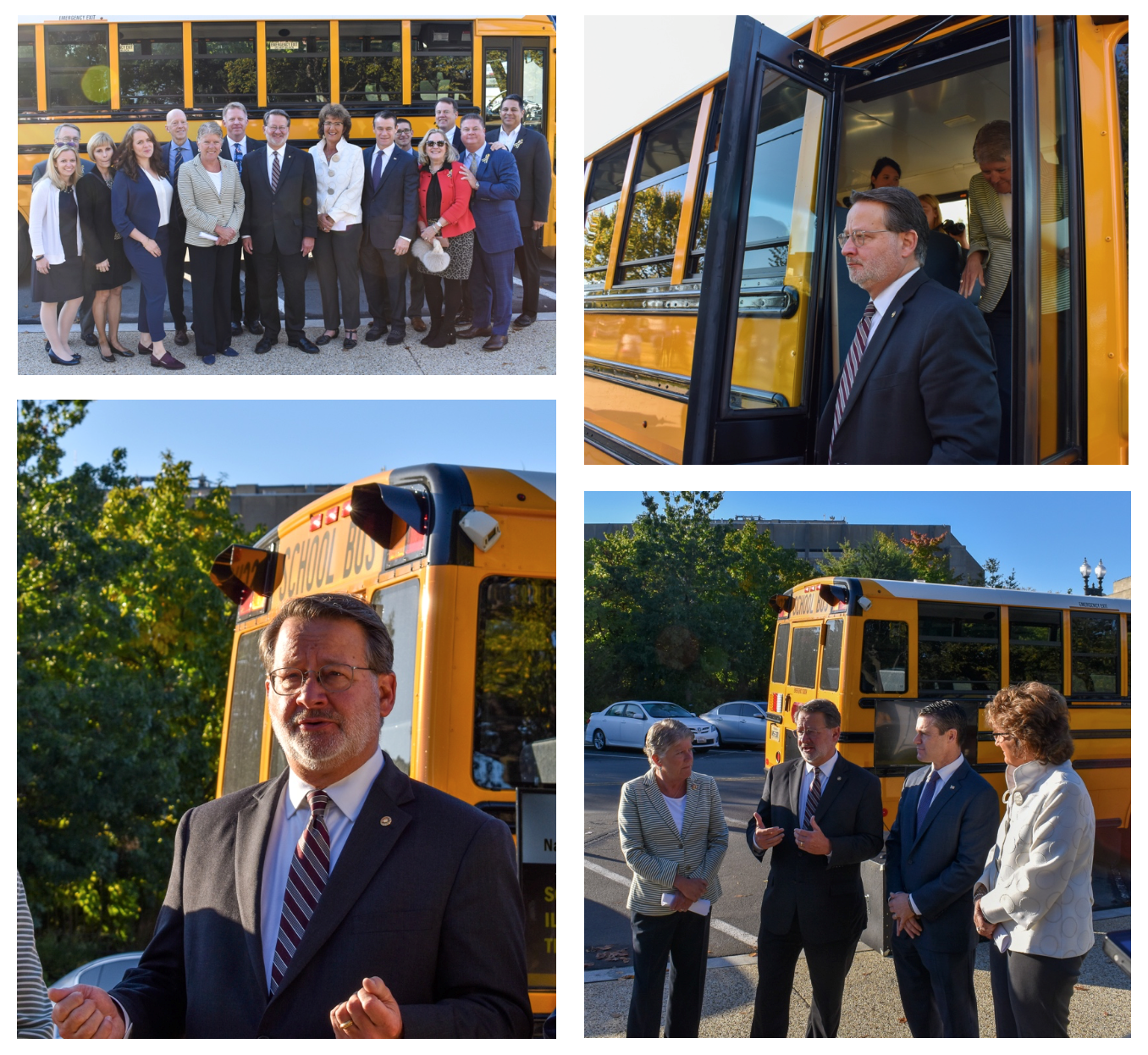 "Next Wednesday will mark the one-year anniversary of the tragic deaths of three young Hoosiers in a bus-related crash in Fulton County, Indiana. We cannot accept accidents like this as routine," said Senator Young. "Today was an opportunity to raise support for the Stop for School Buses Act and spread awareness for the much-needed review of existing safety laws surrounding our school buses."
"Every driver shares the roads with school buses, and we all have a role to play in keeping kids safe," said Congresswoman Walorski. "Today's event was an important opportunity to learn more about innovative technologies that can help prevent drivers from illegally passing school buses and to discuss our bipartisan efforts in Congress to ensure students are safe on their way to and from school. The STOP for School Buses Act will help states and local communities take the most effective actions to prevent tragedies and save lives."
"As a mom and a former school board member, ensuring our children get safely to and from school every day is an issue that is near and dear to my heart," said Congresswoman Brownley. "We need to do more to educate drivers and to assess new technologies that can prevent illegal school bus passing. Kids' lives depend on it."
"NSTA was very happy to host this showcase during National School Bus Safety Week highlighting the growing problem of illegal passing of stopped school buses, technologies that can prevent the problem and the STOP for School Buses Act," said John Benish, Jr., President of the National School Transportation Association. "NSTA thanks Congresswomen Walorski and Brownley and Senators Young and Peters for being present with us today and for their tremendous leadership on this issue, and all who attended the event today. We look forward to continuing to work with Congress to advance this legislation and prevent needless tragedies."
"As the industry's trusted leader in school bus safety technologies for over 20 years, we are pleased to have participated in today's live demonstrations," said Chris Akiyama, Vice President, School Bus at Safe Fleet. "Earlier today, we showed the Predictive Stop Arm and Driver Alert solutions in action and how they can proactively keep students out of harm's way. Our solution aims to save lives by gauging risk of stop arm violations, and notifying drivers and students before an accident occurs. We look forward to a future where the School Bus Danger Zone can become a safety zone."
The STOP for School Buses Act would require the National Highway Transportation Safety Administration (NHTSA) to review and report on existing school bus passing laws and current school bus safety technology to prevent illegal passing. NHTSA would be required to conduct a comprehensive review and report on best practices. As part of the review, NHTSA would:
Identify illegal passing laws in every state, including penalties.
Review the effectiveness of safety technologies and countermeasures.
Evaluate and recommend best practices for deterring illegal school bus passing.
Review driver education materials across all states and make recommendations, particularly with respect to new drivers
Implement a public safety messaging campaign to highlight the importance of school bus safety.
The lawmakers introduced the legislation after a number of incidents have threatened students in Michigan and across the country. Last year in Montcalm County, two students were seriously injured after they were struck by a passing car while crossing the street for their bus to school that was stopped within the loading zone. Additionally, a driver struck and killed three young siblings and injured a fourth student while they were boarding their school bus in Rochester, Indiana. Recent studies and new data are showing failures to stop for vehicles is a growing problem.
###
---
---
Next Article
Previous Article