10.11.19
Peters Hears From Michigan Families Impacted by High Prescription Drug Costs During Listening Tour Across Michigan
Peters Held Roundtable Discussions with Families, Health Providers and Medical Professionals in Grand Rapids, Southgate and Flint
FLINT, MI – U.S. Senator Gary Peters (MI) held a series of roundtable discussions during his listening touron lowering the cost of prescription drugs for Michiganders, which included stops in Grand Rapids, Southgate and Flint over three days. At each stop, Peters spoke with local health providers and medical professionals as well as families impacted by high prescription drug costs.
"No one should ever have to face the decision of whether to pay their bills or pay for the medication they or their loved ones need," said Senator Peters. "I appreciated the opportunity to hear stories from Michigan families about how they've been affected by rising prescription drug prices and drug shortages, including from some who've traveled to Canada to access the medicine they need. I will use the conversations I had with Michiganders this week to continue guiding my work to lower prescription drug costs."
Peters is focused on working to reduce health care and prescription drug costs. The Senate Finance Committee approved provisions based on a bill Peters authored to hold drug companies accountable and help lower the cost of health care for seniors. Peters also helped to introduce legislation that would allow Medicare to negotiate for lower prices on behalf of over 2 million Michiganders eligible for enrollment in Medicare Part D. Peters opposes the Administration's health care lawsuit that would overturn the health care law and raise prescription drug and health care costs for Michiganders.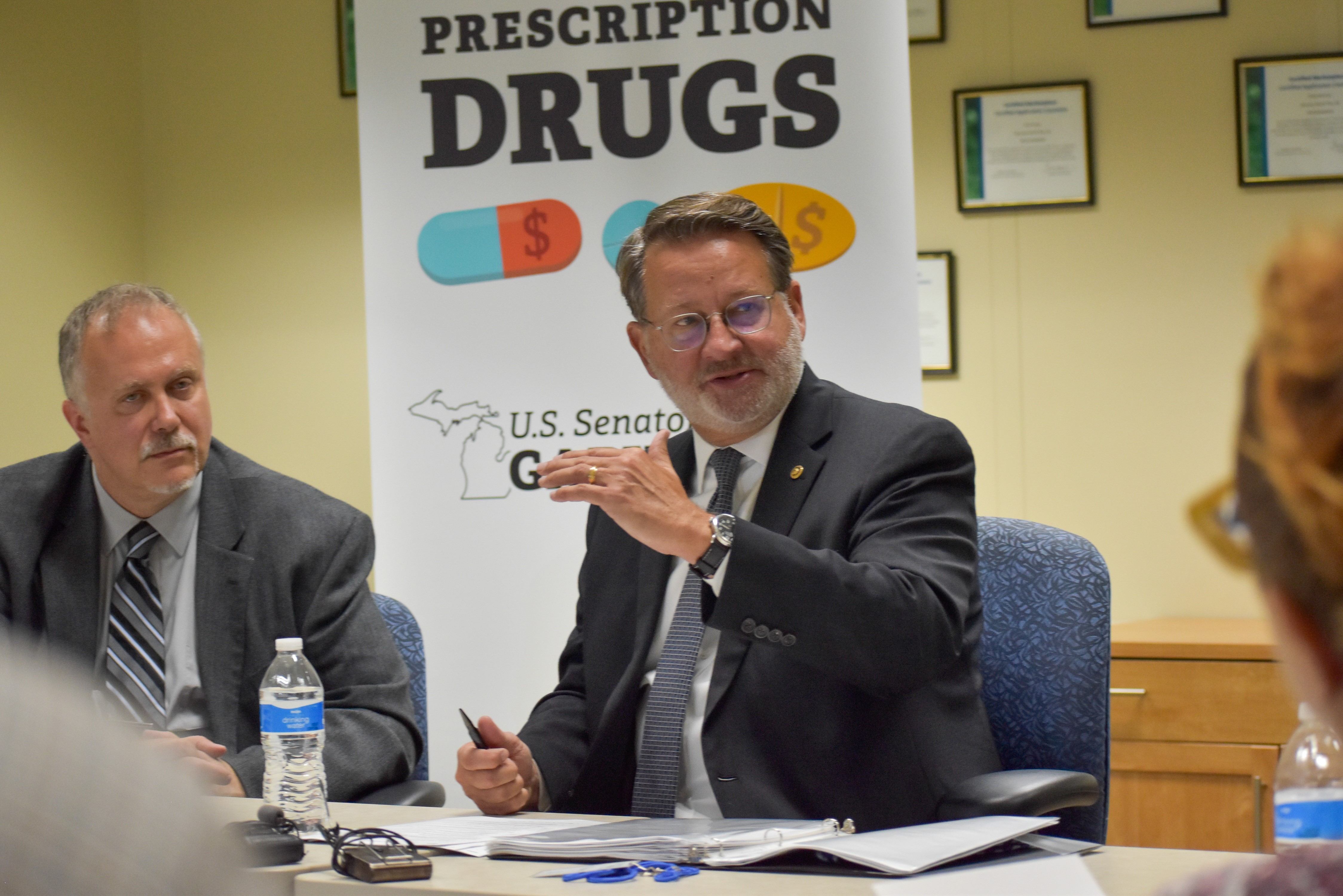 To download high-resolution photos or for additional photos from Peters' stops on the tour, click here.
"There are too many families like mine in Michigan and around the nation that are desperately searching for new ways to afford the rising costs of prescription drugs," said Rachael Lockwood of Gowen, Michigan, a mother of three children diagnosed with type 1 diabetes. "I shouldn't be forced to go to Canada to buy affordable insulin for my children. This system needs to be fixed so that when my children with type 1 diabetes are adults they do not have to choose between paying their rent or buying insulin. I appreciated the opportunity to talk with Senator Peters about addressing this crisis and for him taking the time to hear what my family has to continually endure to make ends meet."
"Every patient deserves the opportunity to achieve optimal health," said Tasha Blackmon, CEO, Cherry Health. "Cherry Health was grateful to host Senator Peters in Grand Rapids, to discuss how everyone can work together to make care more affordable and accessible to all Michiganders."
"Rising health care and prescription drug costs are routinely roadblocks to our team's mission of strengthening families and improving lives," said Kari Walker, CEO, Guidance Center. "We appreciated the opportunity to host Senator Peters and discuss how we can make sure that Michiganders from all walks of life have access to the treatment they or their loved ones need."
"The rise in prescription drug costs continues to price out families and communities across Michigan from securing the quality care they need," said Jim Milanowski, President and CEO, Genesse Health Plan. "Our team appreciated the opportunity to host Senator Peters and we look forward to continuing to work with him to ensure that every patient has equal access to quality, affordable care."
"As both a thyroid and breast cancer survivor, I know full well that battling life-threatening diseases is difficult enough without having to worry about affording the medication you need," said Jeanette Hildreth of Burton and breast cancer survivor. "I appreciated that Senator Peters took the time to hear my story because survivors and their loved ones should not have to struggle through this additional burden both during the fight of their lives and while in recovery."
"After I was diagnosed with a rare illness, I came to understand how difficult it can be to budget daily living expenses with life-saving medicines," said Sheron Williams, Founder, Michigan Unstoppable Warriors Sarcoidosis Group. "Too many people are being unnecessarily hamstrung by high health care costs in their fight against sarcoidosis and other rare diseases. I'm glad Senator Peters took the time to listen to us about ways to help lower costs and tackle the issue of drug shortages head-on."
###
---
---
Next Article
Previous Article