04.02.20
Peters Holds Telephone Town Halls with Michiganders on Coronavirus Pandemic
Peters Highlighted His Efforts to Support Workers, Families, Small Businesses and Health Care Professionals; Took Questions from Michiganders
DETROIT, MI – This week, U.S. Senator Gary Peters (MI) held telephone town halls to provide an update on his efforts in the Senate to help Michiganders impacted by the Coronavirus pandemic and to answer their questions. He discussed the recently enacted Coronavirus, Aid, Relief and Economic Security (CARES) Act and resources available to workers, families, small businesses and medical professionals.
The CARES Act included a number of Peters' efforts, including his Pandemic Unemployment Assistance Act, which created an unemployment compensation program to provide federally funded benefits to people unable to work because of the Coronavirus. It expands who is eligible for unemployment to include workers who have exhausted their state unemployment benefits or other workers who would not usually qualify, such as self-employed workers like small business owners, freelance workers, independent contractors, and seasonal workers as well as individuals who've recently started or were about to start a new job. Workers will receive benefits for up to 39 weeks. Earlier this week, the State of Michigan announced an expansion of unemployment assistance which was made possible by Senator Peters' bill.
Michigan Daily: Senator Gary Peters hosts telephone town hall
"Tuesday afternoon, Sen. Gary Peters, D-Mich., held the first of two telephone town halls on the COVID-19 pandemic open to the public.
"On the call, Peters discussed Michigan's expansion of unemployment benefits, ways residents can help health care workers access personal protective equipment, plans to minimize the pandemic's impact on the economy and the direction of future legislative efforts.
"'I'd like to, first and foremost, recognize the heroes in our state,' Peters said. 'What we have seen from our fellow Michiganders has been nothing short of remarkable.'"
WWTV 9&10 News: Senator Peters Live: Telephone Town Hall
"Senator Gary Peters is holding a telephone town hall right now. He's updating the public on his efforts in the Senate to help Michiganders impacted by the coronavirus pandemic. Let's take a listen to what he has to say…
"Sen. Peters: But I think If I were to look at it right now, where I think you're going to need additional assistance first -- and foremost will be healthcare. Our healthcare system will be likely stretched considerably more than what we're planning for right now and additional assistance will need to be provided. I've been talking to hospitals all across the state of Michigan, and talking to their CEOs and other administrators, and they are telling me about their strain that this has, particularly as they're delaying a lot of procedures and focusing on COVID-19. Some of those hospitals are really worried whether they're going to survive at the end. And I'll tell you, I'm really concerned about rural hospitals in particular, rural hospitals do not have the financial resources that some of our large urban hospitals do. And I think we're going to have to be looking at additional assistance in that area…
"But it's important for me to hear from all of you, areas that you think that need to be addressed, please contact my office. And if these are not happening the way they should, I need to hear that as well. You know, I'm your advocate in Washington, DC. I'm fighting the fight to make sure that we're getting these resources to everybody [as] quickly as possible, and to try to get rid of some of the bureaucratic hurdles that prevent that from happening. And so I need to hear your stories. I need to hear your suggestions. So please contact me about that as we move forward."
WWMT Kalamazoo News Channel 3: Senator Peters to Hold Telephone Town Halls
"US Senator Gary Peters is providing Michiganders with updates on efforts in the Senate to help those impacted by the COVID-19 pandemic. Senator Peters is holding a tele-town hall both tomorrow and Wednesday, there he'll discuss the CARES Act and resources available to workers, small businesses, families and medical professionals right now. He'll also answer your questions."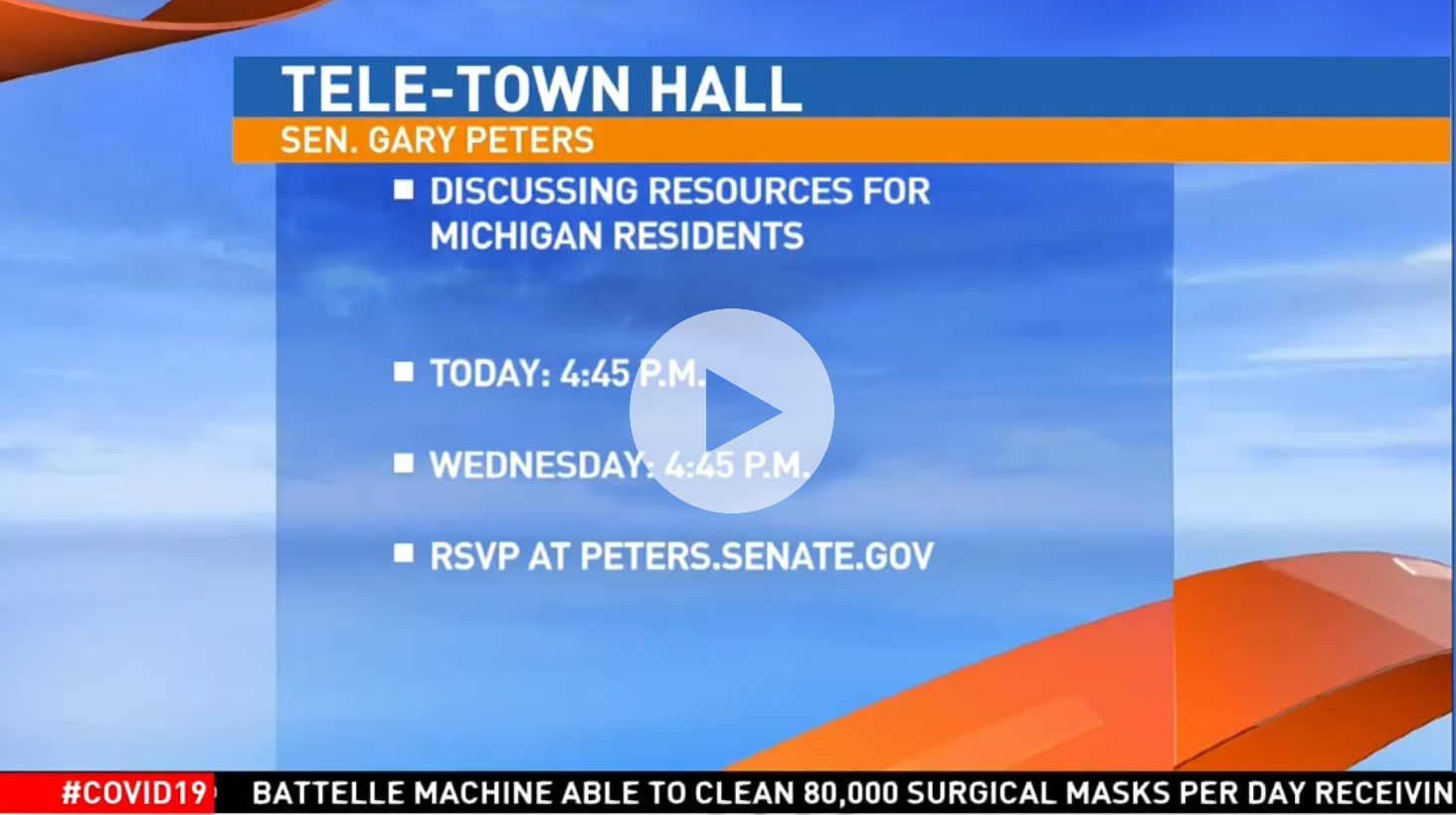 WOOD-TV Grand Rapids: Sen. Peters Holding Telephone Town Halls
"Senator Gary Peters will hold the first of two telephone town halls today. He'll talk about what Congress is doing to help people here in Michigan through this pandemic. He will go over the CARES act, which will get checks to Americans and provide loans for small businesses."
Macomb Daily: Mitchell, Peters offering events for residents on COVID-19 and CARES Act
"Senator Gary Peters (D-Michigan), is holding telephone town halls at 4:45 p.m. Tuesday and Wednesday to help those impacted by the COVID-19 pandemic and answer their questions. Peters will discuss the recently enacted Coronavirus, Aid, Relief and Economic Security (CARES) Act and resources available. Some of the things the CARES Act provides is assistance to households through direct checks, expanded unemployment insurance and new loans for small businesses."
###
---
---
Next Article
Previous Article