07.15.20
Peters Tours TentCraft in Traverse City, Highlights Efforts to Support Businesses Adapting to Challenges Posed by COVID-19
Peters Championed Legislation to Provide Michigan Businesses Additional Time & Flexibility to Use Their PPP Loans That Was Signed Into Law
TRAVERSE CITY, MI – U.S. Senator Gary Peters (MI) today visited TentCraft, a custom pop-up tent, frame tent and tent accessory manufacturer, in Traverse City. While on a tour of their facility, Peters also highlighted his recent efforts to support small businesses across Michigan that are working to adapt to unprecedented challenges caused by the Coronavirus pandemic. TentCraft applied for and received a loan from the Small Business Administration's Paycheck Protection Program (PPP), which Peters helped pass as part of the CARES Act in March. These loans provided TentCraft the resources needed to retain staff and overhaul their operations in order to produce tents for Coronavirus testing sites and other medical facilities.
"Since this pandemic began, small businesses in Traverse City and across our state have adopted innovative approaches, retooled and revamped to navigate this unprecedented crisis," said Senator Peters, a member of the Commerce, Science and Transportation Committee. "Michigan small businesses are helping lead the charge in Coronavirus response efforts and are critical employers, job creators and engines of economic growth. I have fought for and helped enact funding to support our small businesses and will continue working in a bipartisan manner to ensure that the PPP program and federal resources are available to provide necessary relief to small businesses in our state that need help the most."
"Like many small businesses, the pandemic created both challenges and opportunities for us. With innovation, help of a PPP loan and the tireless work of our dedicated employees, we have retooled and shifted our focus to producing medical tents for drive-through sites and other medical facilities that are vital for COVID response efforts," said Matt Bulloch, CEO, TentCraft. "We were pleased to have Senator Peters participate in on our daily team huddle and tour our facility, and we sincerely appreciate his leadership in the Senate to support Michigan."
"In the face of this unprecedented public health and economic crisis, small businesses across the Grand Traverse region have stepped up to help lead our community through this pandemic," said Warren Call, CEO, Traverse Connect. "We were glad to have the opportunity to join Senator Peters at TentCraft and discuss efforts to secure federal support for Michigan small businesses, which are critical to Coronavirus response efforts and the economic engine of our local communities. We look forward to continuing to work with Senator Peters to ensure our businesses can be best positioned for both short-term recovery and long-term success."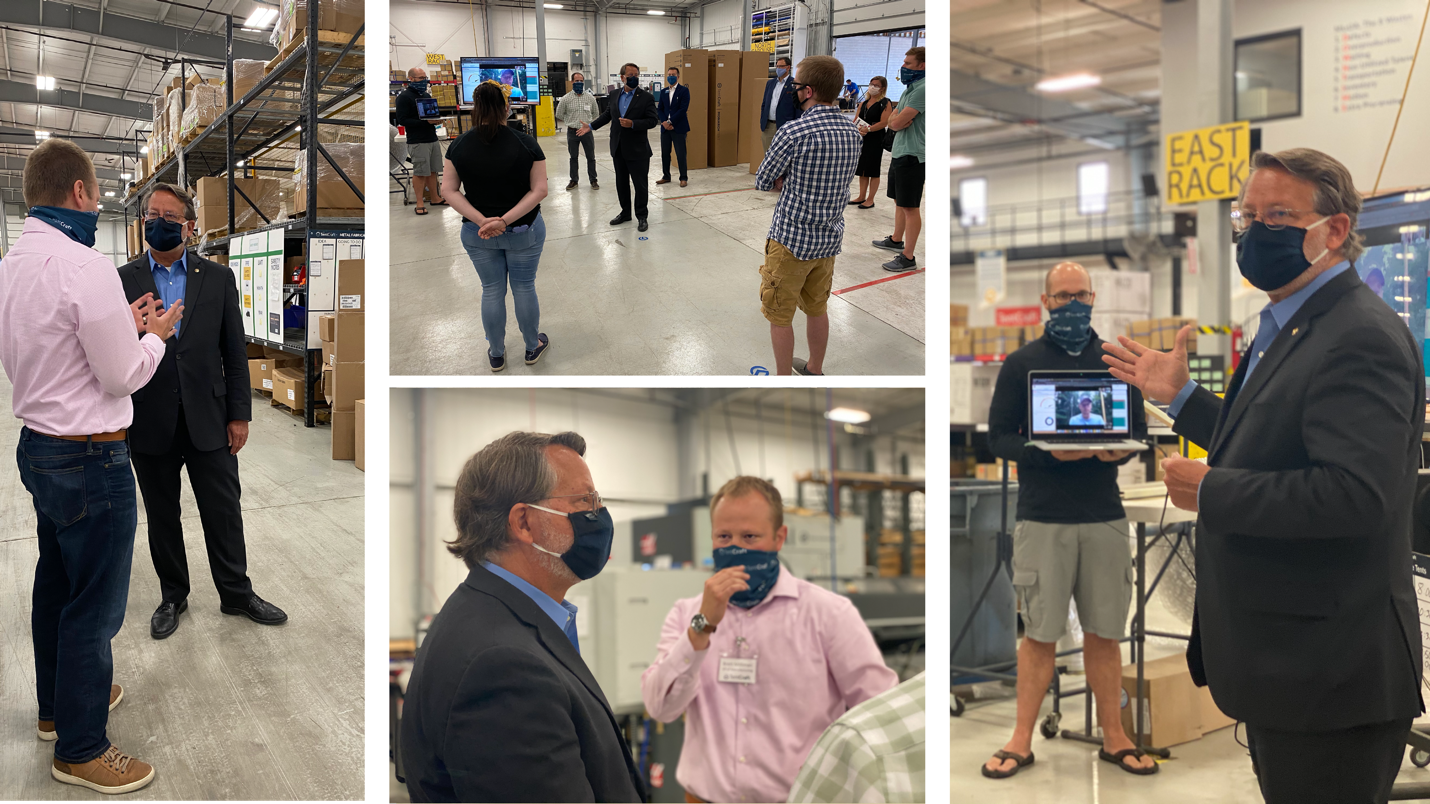 For additional photos click here.
Peters has led numerous efforts to support Michigan small businesses impacted by the Coronavirus pandemic. Last month, Peters helped pass legislation that gave small businesses with PPP loans more flexibility in using the forgivable loans they applied for to maintain operations. Peters also led the fight this past April to ensure funding for small community-based lenders, including Community Development Financial Institutions (CDFIs) and Minority Depository Institutions (MDIs) to support minority owned small businesses that was signed into law. Additionally, Peters pressed for funding for small businesses as part of the CARES Act.
###
---
---
Next Article
Previous Article