MONROE, MI – U.S. Senator Gary Peters (MI), Chairman of the Homeland Security and Governmental Affairs Committee, today toured the Port of Monroe with Customs and Border Protection (CBP) officials, including Acting Commissioner Troy Miller, and Port of Monroe leaders to assess current operations and discuss resolving ongoing cargo clearance challenges the port faces. In recent years, the Port of Monroe has been restricted by CBP's Detroit Field Office from accepting international break bulk cargo and prohibited the port from accepting international maritime containers, unless the port invested in significant and costly screening technology and infrastructure upgrades. Other Great Lakes ports have reported not being subjected to the same restrictions, which undermines Michigan's economic competitiveness. As Chairman of the Committee that oversees CBP, Peters has long pressed CBP for answers on why there are these unequal requirements, and advocated for the Port of Monroe to be held to the same standards as other ports in the region.
"I appreciated today's opportunity to show Acting Commissioner Miller and other Customs and Border Protection officials how the Port of Monroe is working to deliver critical products to families and businesses across Michigan and the Great Lakes region. We were able to see firsthand how Director Paul LaMarre and his leadership team are investing in stronger security screening and infrastructure so they can expand operations," said Senator Peters. "Acting Commissioner Miller and I discussed how we can work together to resolve longstanding issues, that limit Michigan's economic competitiveness and raise questions about whether these screening rules are truly effective and based on risk. We also discussed the economic engine of the Great Lakes and how expanded cargo services could increase economic activity for the region and the nation. I'll continue fighting to ensure Michigan's ports are treated fairly and have the resources necessary to ensure our state can continue to serve as a hub for international commerce."
"The unrelenting advocacy of Senator Peters and the support of his legislative team has served as the fuel propelling the Port of Monroe to reach its potential as Michigan's first maritime container terminal. The Senator's deckplates leadership has never been more apparent than during this visit," said Paul LaMarre, Director of the Port of Monroe. "Acting Commissioner Miller's presence in our community and footsteps upon our dock represent USCBP's commitment to ensure that the Port of Monroe, and all Michigan Ports, will be open for business as we strive to sustain the 'Great Lakes State's' economic vitality during this challenging time. Following this meeting it is imperative that Michigan's CBP leadership finds ways to ensure that Michigan's Ports receive equitable allocations of personnel, tools, and technology as Senator Peters' has continually legislated for their enhanced resources."
During the visit Peters, Miller and other CBP officials met with the Port of Monroe's leadership team to discuss the ongoing challenges and what additional resources are required to ensure that incoming cargo is safe and secure, assure reliable and consistent service, boost operations, and expand their capabilities to provide increased cargo services throughout the Great Lakes region. They also toured the Port's existing facilities and discussed planned upgrades to ensure the Port can handle additional types of cargo.
In his role on the Homeland Security and Governmental Affairs Committee, Peters has fought to support Michigan's ports, especially the Port of Monroe, and ensure they receive fair treatment. He recently announced the Port of Monroe received a federal grant to help upgrade cargo screening infrastructure. A bipartisan measure coauthored by Peters was signed into law requiring federal officials to assess all ports of entry, including finding ways to reduce wait times for passengers and cargo at the border. Peters has repeatedly pressed CBP on why the Port of Monroe is being held to standards that are not applied to other ports in the region. Peters recently published an op-ed, outlining the importance of making sure Michigan's economic competitiveness is not being undercut by unfair policies or practices. Peters also helped secure a $1.1 million federal grant for the Port of Monroe to expand its maritime commerce operations. In 2019, Peters authored legislation to authorize CBP to hire 600 additional CBP Officers each year until needs identified in the workload staffing model are met.
To download high-resolution photos from the visit, click on the images below. Images are courtesy of Senator Peters' Office.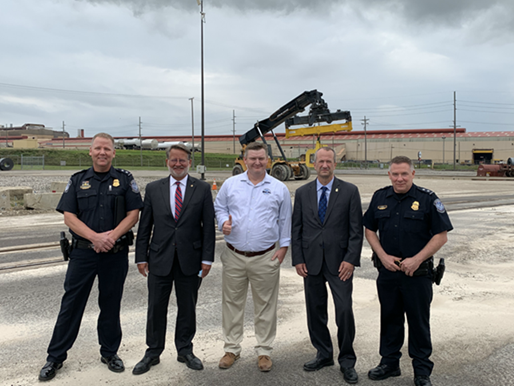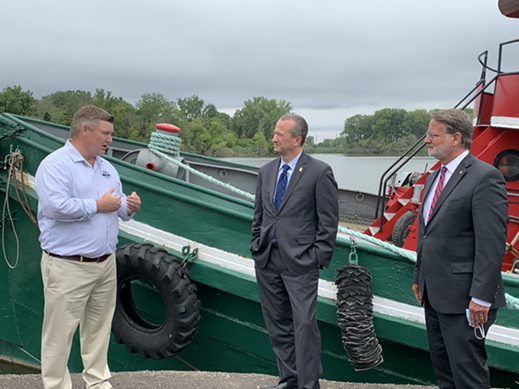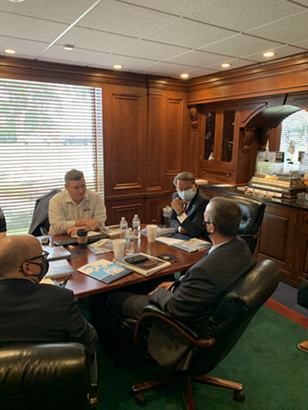 ###