08.25.21
PHOTOS: Peters Concludes Annual Motorcycle Tour Across Michigan in Paradise
Peters and Local Leaders Highlighted How Historic American Rescue Plan Has Delivered Vital Relief
PARADISE, MI – U.S. Senator Gary Peters (MI) today visited Paradise in the Upper Peninsula on the third and final day of his annual motorcycle tour across Michigan. Peters concluded his Hell to Paradise motorcycle tour at the Whitefish Point Light Station and was joined by Chris Olson with the Chippewa County Economic Development Corporation, Chippewa County Commission Board Chair Jim Martin, and Bruce Lynn with the Great Lakes Shipwreck Historical Society.
"There is no better way to see everything that Michigan has to offer than while riding a motorcycle – and my annual motorcycle tour has allowed me to hear firsthand how the American Rescue Plan that I helped enact is providing critical relief to help local small businesses, families and communities recover from this pandemic," said Senator Peters. "We're seeing the tangible effects of this support right here in the Upper Peninsula through funding for small businesses to retain employees and keep their doors open, a major tax cut for the majority of families with children and investments in our infrastructure like the Chippewa County Airport—a critical, local economic engine."
"We're grateful for Senator Peters' leadership in helping enact the American Rescue Plan," said Jim Martin, Chippewa County Commission Chairman. "Chippewa County is receiving funding from this relief package that will help us get through this pandemic and we're looking to use this toward supporting frontline and essential workers and exploring ways we can make upgrades to our emergency services that our community relies on. There's no question these resources will be put to good use to make Chippewa County an even better place to live, work and raise a family. We've had a strong partnership with Senator Peters, and we look forward to continue working with him at the federal level."
"Thanks to the American Rescue Plan, which Senator Peters helped pass, many small businesses in our county received federal support through the Paycheck Protection Program that has quite literally been a lifeline," said Chris Olson, President of the Chippewa County Economic Development Corporation. "That's been hugely important for our small businesses to keep workers on payroll and stay afloat. Without it, many small businesses may not have weathered this pandemic. While we're not out of the woods, I'm pleased to say our businesses are on a stronger footing and our economic outlook is brighter thanks to the American Rescue Plan and the support it has given businesses in Chippewa County."
"On behalf of Paradise and the Great Lakes Shipwreck Society, we're happy to welcome Senator Peters to Whitefish Point Light Station," said Bruce Lynn, Great Lakes Shipwreck Society. "As the oldest operating lighthouse on Lake Superior, we're proud to help preserve this piece of Michigan history and an important site in the Upper Peninsula. Senator Peters could not have picked a better place to end his motorcycle tour."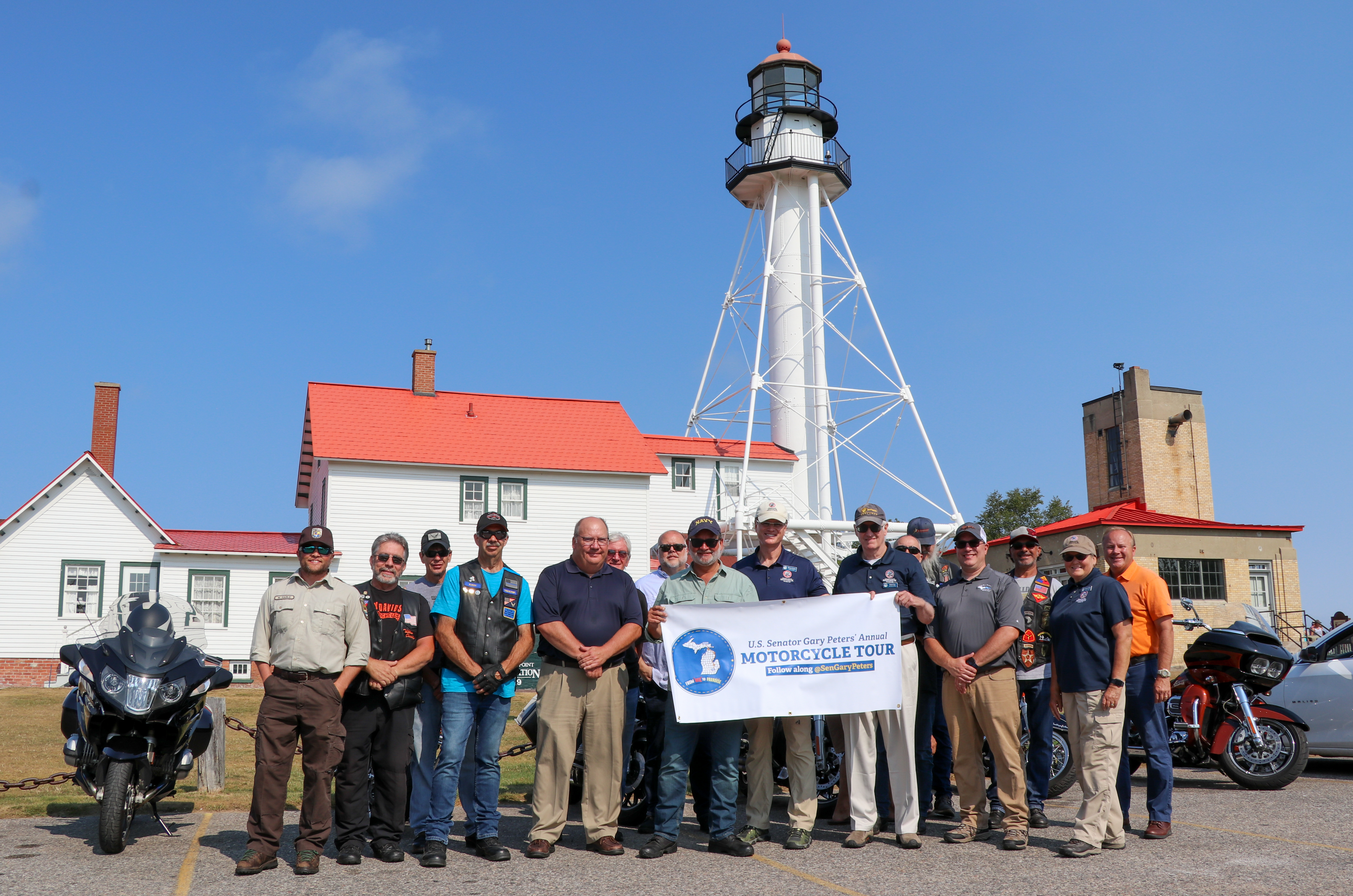 For photos from Peters' stop in Paradise, Michigan click here.
During the motorcycle tour, Peters made stops in Hell, Alpena, Flint and Mackinaw City, where he met with Michiganders to hear about how the American Rescue Plan, which distributed direct stimulus checks, aided small businesses and restaurants, provided a major tax cut for the majority of families with children and accelerated vaccine distribution.
###
---
---
Next Article
Previous Article