GRAND RAPIDS, MI – U.S. Senator Gary Peters (MI), Chairman of the Senate Homeland Security and Governmental Affairs Committee, visited the Grand Rapids Fire Department today to highlight the need to pass his bipartisan legislation that would extend federal grant programs that provide critical resources to Michigan fire stations. The bill, which was recently approved by the Homeland Security and Governmental Affairs Committee, would reauthorize the Federal Emergency Management Agency's (FEMA) Staffing for Adequate Fire and Emergency Response (SAFER) grant program, the Assistance to Firefighters Grant (AFG) program, and the United States Fire Administration (USFA). The programs are set to expire and are used by local fire departments to address staffing needs, purchase equipment, develop fire training and education programs, and improve emergency medical services.
Peters participated in a fire safety demonstration using equipment that was purchased with funding from the AFG program, and met with firefighters who were hired using SAFER grants. Peters was also joined by Grand Rapids Mayor Rosalynn Bliss and Grand Rapids Fire Department Chief John Lehman.
"My visit to the Grand Rapids Fire Department allowed me to see firsthand how federal grant programs provide local fire stations with the tools and resources they need to keep our communities safe and protect firefighters," said Senator Peters. "Congress must pass my bipartisan bill to extend these widely used programs to continue supporting brave and heroic firefighters who put their lives on the line each and every day." 
"Today's demonstration showed just how important federal resources are to supporting local fire stations in Grand Rapids and all across Michigan," said Grand Rapids Mayor, Rosalynn Bliss. "I applaud Senator Peters for his work to ensure these vital federal grant programs will continue to offer local fire departments the resources to hire critical personnel and purchase up-to-date equipment so firefighters can stay safe on the job."
"I applaud Senator Peters for his continued commitment to ensuring firefighters and first responders in Grand Rapids, and across the state, have the resources and equipment needed to protect their communities," said Grand Rapids Fire Chief, John Lehman. "The reauthorization of the Fire Grants and Safety Act will pay dividends for our operational and safety needs, and I appreciate Senator Peters' leadership on this issue."   
Since 2012, the Grand Rapids Fire Department has received $8.2 million dollars from the SAFER and AFG programs. Last fall, the department received $2.8 million from the SAFER program to hire 8 firefighters, while the AFG program has allowed the department to replace its vehicle extrication equipment, air packs, CO2 sensors, rescue harnesses, and fitness equipment. AFG grants have also allowed for the Grand Rapids Fire Department to launch an extensive effort to provide and install free smoke detectors in citizens' homes. In 2021, Michigan fire departments received from more than $10.8 million from the AFG program, and more than $8 million from the SAFER grant program. The visit highlighted the need to pass Peters' Fire Grants and Safety Act to reauthorize these critical grant programs.
Peters also discussed a bipartisan law he wrote to help protect the health and safety of firefighters and emergency responders from PFAS exposure. The Protecting Firefighters from Adverse Substances (PFAS) Act directs federal agencies to develop best practices, training, and educational programs to reduce, limit and prevent exposure to PFAS, also known as 'forever chemicals' because they do not naturally break down.
To download high-resolution photos from the visit, click here or on the images below. Images are courtesy of Senator Peters' office.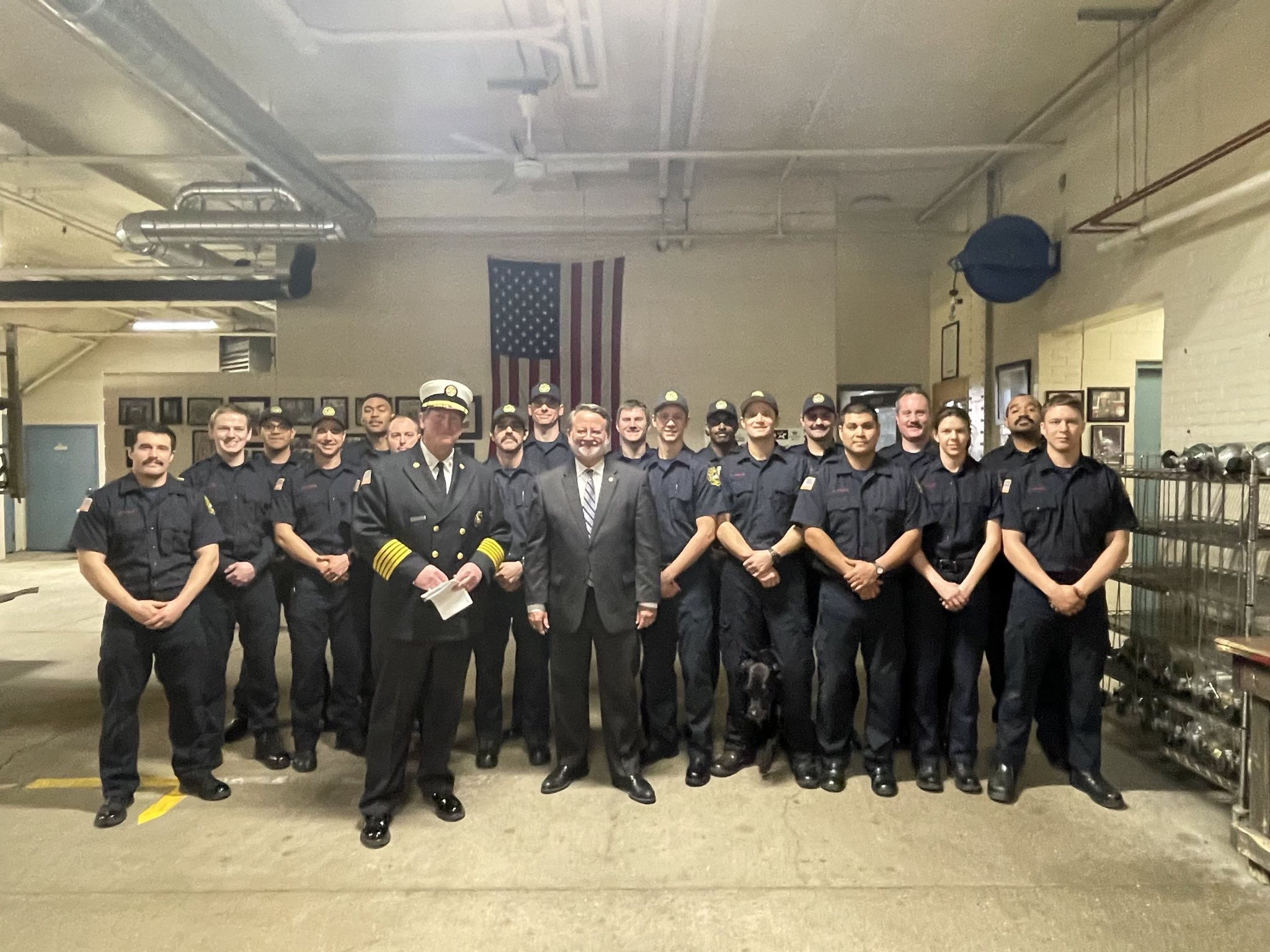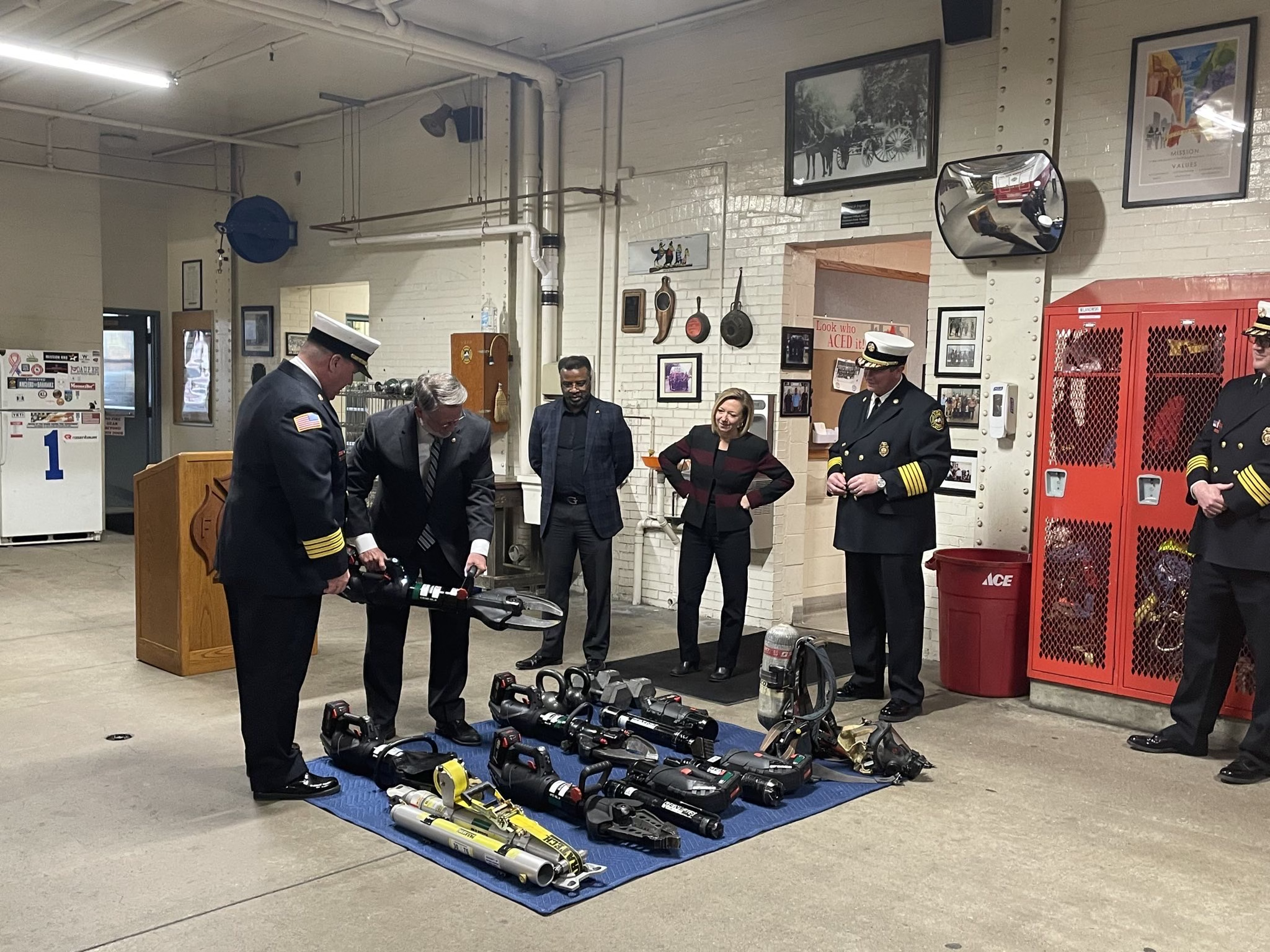 ###