HARRISON CHARTER TOWNSHIP, MI – U.S. Senator Gary Peters (MI), a former Lt. Commander in the U.S. Navy Reserve and member of the Senate Armed Services Committee, today hosted Deputy Secretary of Defense Kathleen Hicks at Selfridge Air National Guard Base. Peters hosted Deputy Secretary Hicks, along with U.S. Senator Debbie Stabenow, to observe the current operational capabilities of the base, review key research and development initiatives taking place through the Kelly Johnson All-Domain Innovation Center, and discuss how Michigan's military facilities are critical to our nation's defense.
"Selfridge is a critical component of our national defense and plays a key role in Michigan's growing cutting-edge defense capabilities," said Senator Peters, a former Lt. Commander in the U.S. Navy Reserve. "I've highlighted Michigan's military installations, innovation and strategic positioning to the Department of Defense, and today's visit from Deputy Secretary Hicks reaffirms their commitment to Michigan for the long-term. I was pleased to host Deputy Secretary Hicks today to showcase the best of what our state has to offer and will continue working to advance Michigan's vital defense footprint and hold the Department of Defense accountable to their commitments to Michigan."
"Selfridge Air National Guard Base and the men and women who serve there play a critical role in our nation's defense," said Senator Stabenow. "Today, Senator Peters and I hosted Deputy Secretary Hicks to give her a first-hand look at the wide array of national defense assets here that support our critical missions. We were also able to show her the partnerships with Michigan businesses and universities that are helping our military meet current and future national security challenges. Selfridge's unique strengths, including broad community support for our Hometown Airbase, ensure it is well-positioned for future missions and new opportunities."
"I appreciate the opportunity I had today to visit with the leaders and service members at Selfridge Air National Guard Base," said Deputy Secretary of Defense Hicks. "They continue to perform critical missions in support of our national defense. At the Kelly Johnson Joint All-Domain Innovation Center, we witnessed the kind of collaboration between the Department of Defense, Michigan's research community, and industrial base partners that will help drive U.S. defense innovation."
"Michigan has a long and storied history of supporting and being an integral part of our country's national defense," said U.S. Army Maj. Gen. Paul D. Rogers, adjutant general and director of the Michigan Department of Military and Veterans Affairs. "Senator Stabenow and Senator Peters have shown tremendous vision in their advocacy to keep Selfridge Air National Guard Base and Michigan at the forefront of our National Defense Strategy. I truly appreciate their work in securing today's visit by Deputy Secretary of Defense Hicks. It was an incredible honor for Michigan and a great opportunity to showcase our state's enormous capacity for defense and innovation investments."
"Today was another opportunity to showcase Selfridge Air National Guard Base as an important asset in our nation's defense," said Macomb County Executive Mark A. Hackel. "Alongside Senator's Peters and Stabenow as well as General's Rogers and Mammen, we again provide our federal defense partners with a number of examples of the capabilities of this base now and into the future." 
The visit builds upon Peters and Stabenow's strong advocacy in Congress for Michigan's robust and growing defense sector. Peters and Stabenow worked to secure significant commitments from the Department of Defense (DoD) including a pledge that Selfridge will continue to play a vital role in the future of our national defense. The Senate is also currently considering the annual national defense bill, which includes nearly $144 million in investments for military facilities across Michigan that Peters secured, including $28 million in funding for a new A-10 hangar and maintenance facility at Selfridge.
To view photos from the visit, click here or on the images below. Images are courtesy of Senator Peters' office.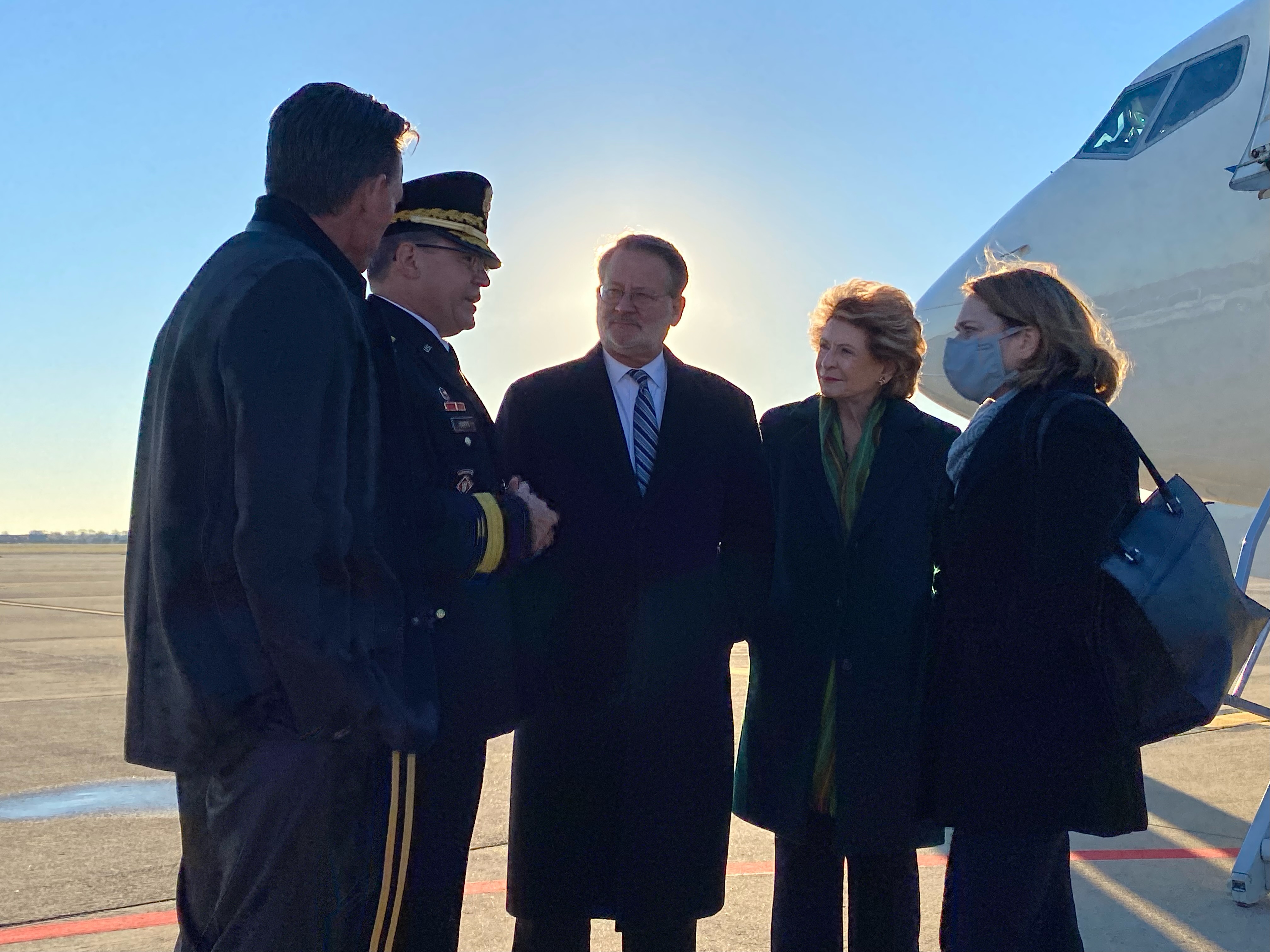 ###