TRAVERSE CITY, MI – U.S. Senator Gary Peters (MI), Chairman of the Homeland Security and Governmental Affairs Committee, stopped in Traverse City today as part of his annual motorcycle tour across Michigan. Peters was joined by Federal Emergency Management Agency (FEMA) Region 5 Administrator Thomas C. Sivak to announce the next steps for funding of the Safeguarding Tomorrow through Ongoing Risk Mitigation (STORM) Revolving Loan Fund, which the Senator secured in the Bipartisan Infrastructure Law.
Peters, Sivak and local leaders toured a portion of Bluff Road on Old Mission Peninsula that is closed due to severe damage caused by shoreline erosion – to see firsthand how erosion has impacted local homeowners, businesses, and tourism. Peters highlighted the $500 million he secured in the bipartisan infrastructure law to fund a grant program he created to help states finance mitigation projects through the establishment of revolving loan funds that will help communities like Traverse City invest in projects to protect against coastal erosion, flooding and rising water levels. Peters authored the STORM Act to create this program, which was signed into law last year.
"The erosion we saw is a prime example of why it is critical we invest in making our infrastructure more resilient to ensure our communities can withstand extreme weather and rising water levels to protect homes, small businesses and the economy," said Senator Peters. "I secured significant resources in the bipartisan infrastructure law for the program I created to help communities in Michigan and across the country mitigate the impact of natural disasters such as coastal erosion. I'm proud to announce today that the program is moving forward so that states will soon be able to apply for this needed support and save taxpayer dollars in the long run."
"The beach fronts that line Grand Traverse Bay are an essential part of our community, but rising water levels in the Great Lakes have caused shoreline erosion that put our small businesses, homes, and residents at risk," said Peninsula Township Clerk Becky Chown. "It's clear that as coastal erosion continues to worsen, we need to ensure our infrastructure is up-to-date and up-to-the task to prevent further damage both here and elsewhere – but communities like ours don't always have the resources to invest in projects that will actually address the issue, wholly and effectively. I appreciate Senator Peters' efforts to ensure that communities like Peninsula Township will have another avenue of assistance as we work to combat natural disasters, coastal erosion and build more resilient infrastructure to keep our township safe in the long run."
"Tourism is an essential part of our local economy here in Grand Traverse County – and that's why it's important to help protect local attractions like the beach front here along Old Mission Peninsula, but also all across Grand Traverse Bay," said Grand Traverse County Deputy Administrator Chris Forsyth. "I appreciate Senator Peters' efforts to create and secure resources to launch the STORM Act program that will allow communities to make early investments in resilient infrastructure so it can stand up to coastal erosion. These kinds of early investments are more cost-effective for taxpayers, and will ensure our tourism industry continues to thrive by keeping our coastlines pristine and in-tact."
"Senator Peters' STORM Act would help our township and county invest in a way that will effectively mitigate the erosion we are already experiencing – as well as prepare against further damage," said Board President of the Old Mission Homeowners Association (HOA) Mike Skurski. "With the necessary funds, the township and county would have the means to take a unified, large-scale approach to mitigating and preventing coastal erosion – helping to ensure the immediate costs of carrying out these infrastructure projects don't fall onto homeowners and taxpayers. There's a lot of value that needs to be protected along this peninsula and I'm pleased to know these loans are now available to communities like ours that just need a little extra help to invest in much-needed upgrades like right here on Bluff Road – and protect our economy in the long-run."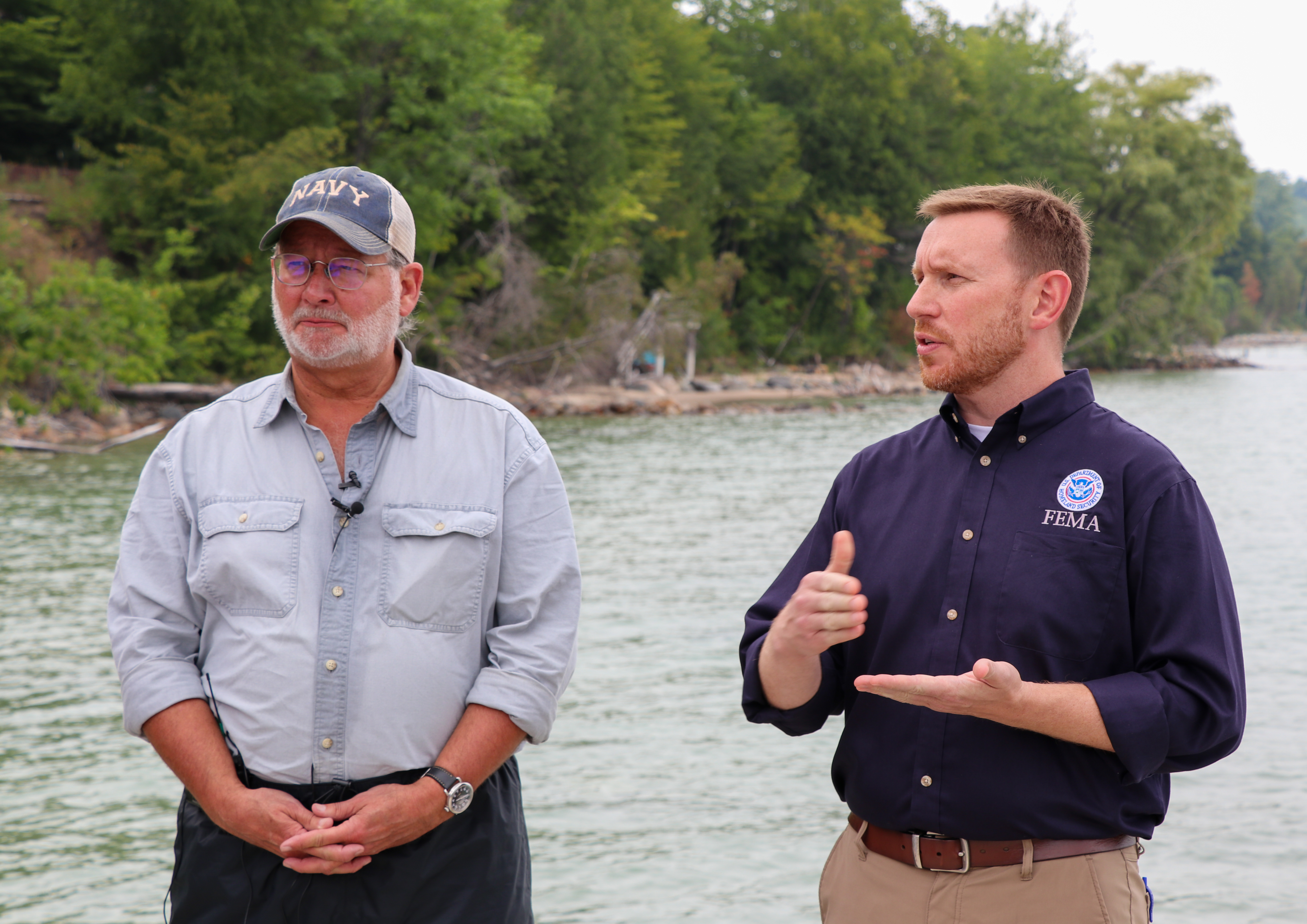 To download photos from Peters' stop in Traverse City, click here.
Earlier today on the motorcycle tour, Peters stopped in Muskegon, where he met with Michiganders and local officials to highlight the record funding he helped secure in the Bipartisan Infrastructure Law for the Great Lakes Restoration Initiative (GLRI).
###