WASHINGTON, DC – The Senate has unanimously passed U.S. Senator Gary Peters' (MI) bipartisan legislation – the Armenian Protection Act – which would prevent the U.S. from providing security assistance to Azerbaijan for two years. Senator Peters introduced the legislation in September in response to the Azerbaijani government's ongoing attacks on ethnic Armenians in Nagorno-Karabakh. This effort came after Peters visited the Armenia-Azerbaijan border and viewed firsthand the 10-month long blockade of the Lachin corridor that has caused a humanitarian crisis for Armenians in the region. On the Senate floor, Peters delivered remarks calling on his colleagues to pass the legislation.
"We must send a strong message and show our partners around the world that America will enforce the conditions that we attach to military aid," said Senator Peters, Chairman of the Homeland Security Committee and member of the Armed Services Committee. "If we do not take action when countries willfully ignore the terms of our agreements with them, our agreements will become effectively meaningless and toothless. I urge my colleagues to join me in holding Azerbaijan accountable for their actions, enforce our agreements with them, and stand with the Armenian people in the face of unprovoked aggression."
To watch video of Senator Peters' remarks on the Senate floor, click here or on the image below.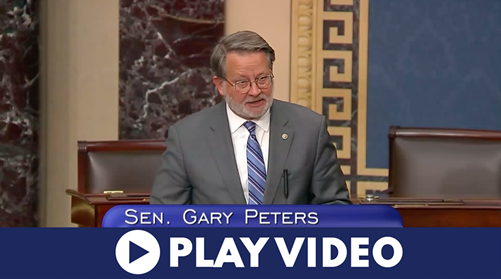 Senator Peters' Armenian Protection Act – which he introduced with U.S. Senator Marco Rubio (R-FL) – would end U.S. assistance to the Azerbaijani government that is currently allowed under a waiver to Section 907 of the Freedom Support Act. Although the Freedom Support Act generally prohibits most bilateral assistance to Azerbaijan, following the September 11, 2001 terrorist attacks, waiver authority was added to Section 907 granting additional discretion to the President to provide aid to Azerbaijan. The waiver authority has been invoked annually by Presidents of both parties since 2002 and the Biden Administration is still reviewing its waiver authority for 2023.
"We commend Senator Peters along with Senator Rubio for this bipartisan legislation," stated Congressional Relations Director for the Armenian Assembly of America Mariam Khaloyan. "Passage of this bill sends a strong message in the face of Azerbaijan's genocidal policies against the Armenian people."
Peters also recently joined a bipartisan, bicameral group of lawmakers calling for the U.S. Treasury Department and U.S. State Department to impose sanctions on certain Azerbaijani government officials associated with the military attacks against – and brutal blockade of – Nagorno-Karabakh. A copy of the letter can be found here.
Peters has previously raised concerns regarding the Azerbaijani military attacks on the Armenian people and has continued to advocate for additional U.S. action to help restore peace in the region. Following his visit to Armenia in September, Peters gave a speech on the Senate floor condemning the Azerbaijani government's military aggression and violence toward Armenia and called on the U.S. to stand behind the Armenian people.
###