U.S. Senator Gary Peters (MI) completed his fourth annual motorcycle tour across Michigan last week, which included stops in Metro Detroit, Flint, Escanaba, Ishpeming, Traverse City, Grand Rapids and Grand Ledge over five days. At each stop, Peters highlighted issues important to Michigan, including closing the skills gap and expanding apprenticeships, supporting veterans, preserving the Great Lakes as an economic engine and major source of drinking water, and strengthening our national defense and border security. Peters was joined by Michigan veterans and constituents, who rode along with him throughout various segments of the tour.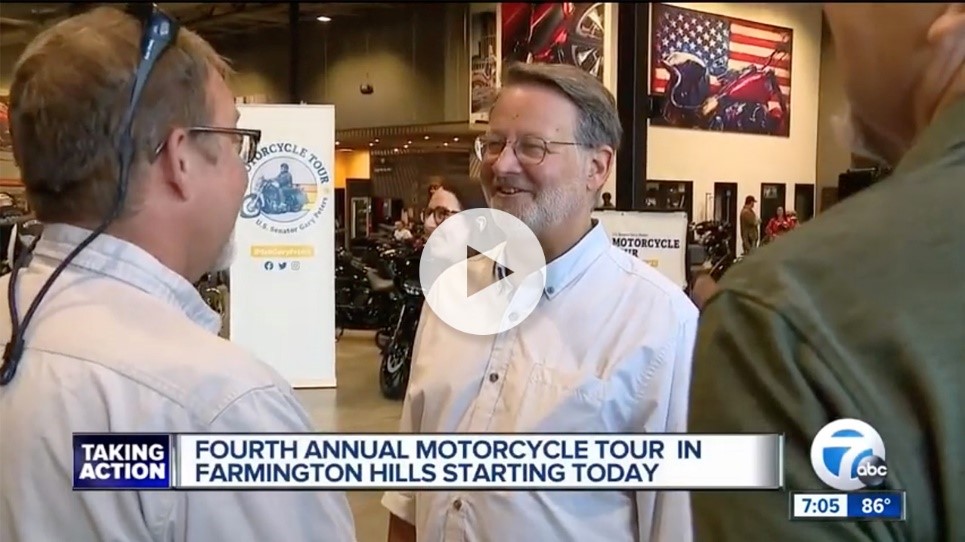 WXYZ Detroit: Peters Kicks Off Fourth Annual Motorcycle Tour in Farmington Hills
"The ride is starting in Farmington Hills but includes various stops in other cities, including Flint, Grand Rapids and Traverse City. Peters plans to talk about important issues in Michigan, like supporting veterans and preserving the Great Lakes. He is not doing this alone either. Michigan veterans are riding along with him during different segments of the tour."
Oakland Press: Sen. Gary Peters discussing apprenticeships and veterans on statewide motorcycle tour
"U.S. Sen. Gary Peters has been riding since he was 11 years old. The Bloomfield Hills resident kicked off his fourth annual statewide motorcycle tour Monday at Motor City Harley Davidson in Farmington Hills. He was joined by motorcycle rights advocates, local officials, and fellow riders.
…
"Some of the tour stops include Mott Community College in Flint to discuss skilled trades and worker training programs with students and educators. 'One thing in particular that I'm going to focus on is the college's veterans program, which helps make sure veterans coming out and being discharged can get their skills enhanced,' said Peters."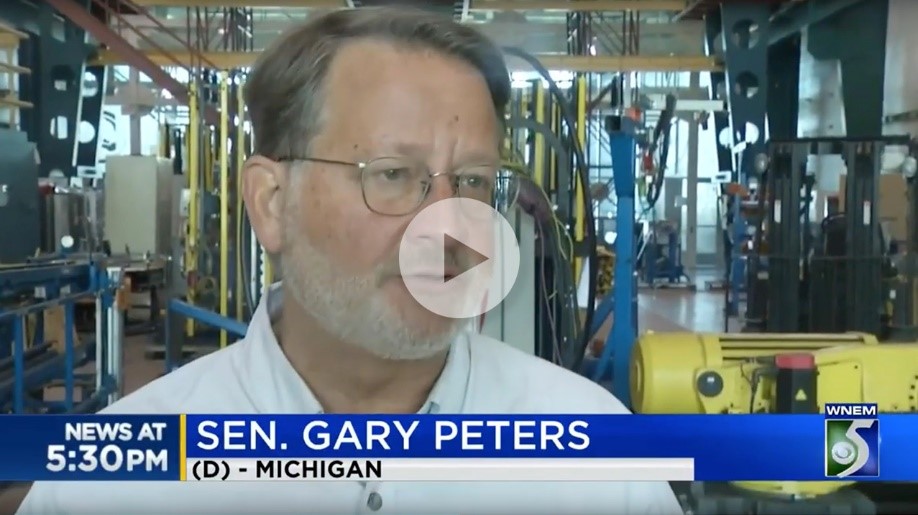 WNEM Flint: Peters stops at Mott Community College, Talks Expanding Apprenticeships for Veterans
"Senator Gary Peters stopped by Mott Community College in Flint today to talk about apprenticeships and skilled trades. It's part of his annual motorcycle tour. This year, Senator Peters highlighted legislation that would expand opportunities for veterans to register for apprenticeships.
"'We have veterans that are coming out of the service, have great skills, they want to transition into the civilian world and they can come here to Mott Community College and get that certificate necessary to get a good civilian job, and I want to make sure we're expanding that,' said Peters."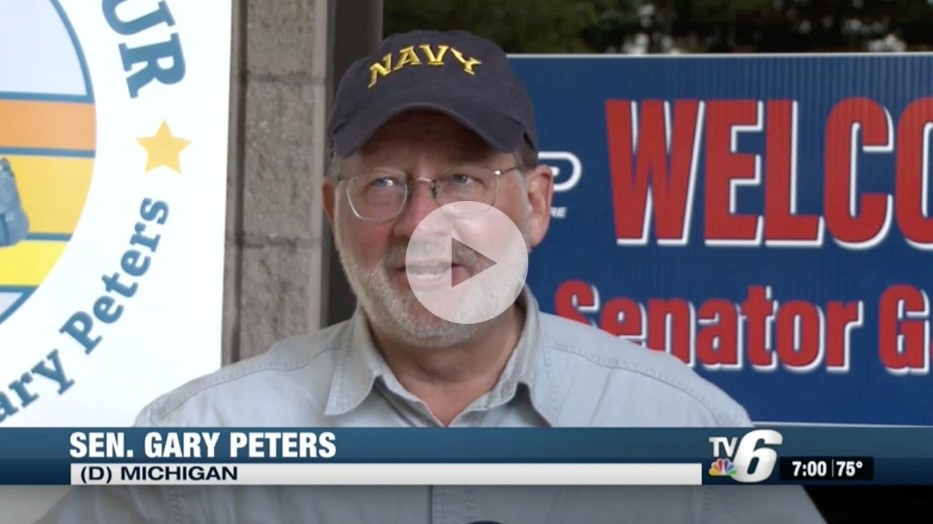 WLUC Marquette TV 6: Senator Gary Peters continues 4th Annual Michigan Motorcycle Tour with stop in Escanaba
"Peters had the chance to tour Engineered Machined Products, a manufacturer headquartered in Escanaba that has operated for nearly 30 years making things like oil pumps, alternators, and electric fans.
…
"Peters says companies like EMP are vital to the future of U.S. manufacturing, and hopes they can help lead the way in reviving the industry here in the United States.
…
"Senator Peters watched a demonstration by Escanaba High School robotics team members, some of whom may very well work at EMP one day.
"'They can come out of high school with those skills and get a job here at a company like EMP and others and these are good paying middle class jobs,' said Peters. 'We've got to expand those opportunities for folks and focus on career technical education.'"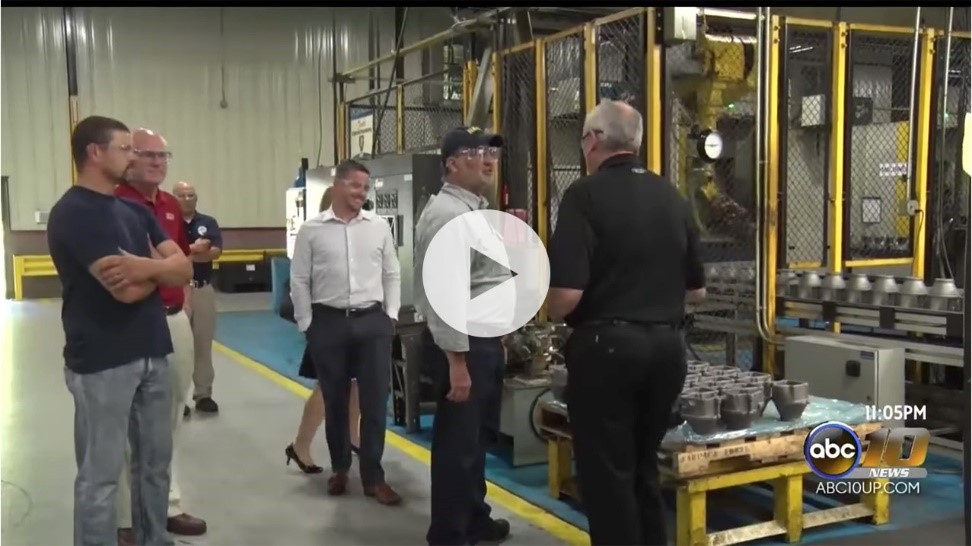 WBUP Marquette: Peters Tours EMP in Escanaba, Highlights Plan to Establish National Institute of Manufacturing
"Senator Peters said that touring places like EMP help him shape policies when he is back in the nation's capital.
"'I focus a great deal of my work in Washington, D.C. on manufacturing,' said Peters. 'I believe that you can't be a great country if you don't actually make things and make quality products, and that's what happens here. And it's important for me to visit and hear the story of EMP, talk about some of their challenges, how we can be helpful to make sure that they continue to be vibrant and growing and continue to hire people here in the Upper Peninsula.'
"One of the policies that Peters has proposed is the National Institute of Manufacturing, which would bring all federal manufacturing programs under one roof.
"'We have 58 programs spread out across 11 agencies,' said Peters. 'It's not coordinated, it's wasteful of taxpayer money and it's not focused on what we have to do which is make sure the United States continues to be the leader in manufacturing. And I think there's a lot to be learned here at EMP, which is why on my motorcycle trip across Michigan I wanted to be sure to come to Escanaba and I wanted to be sure to visit the good folks here.'"
Marquette Mining Journal: Peters stops at Ishpeming Senior Center during annual motorcycle tour
"Many people want to stay at home safely and independently as they age, but there can be barriers to aging in place, especially in rural areas. For this reason, U.S. Sen. Gary Peters, D-Michigan, made a stop at the Ishpeming Senior Center along Pine Street in Ishpeming Wednesday morning during his fourth annual motorcycle tour across Michigan.
…
"'I find that the best laboratories for good ideas are in local communities,' Peters said. 'That's why I'm here seeing firsthand what's happening here in Ishpeming and the greater Marquette area so I can take that back to Washington D.C.'"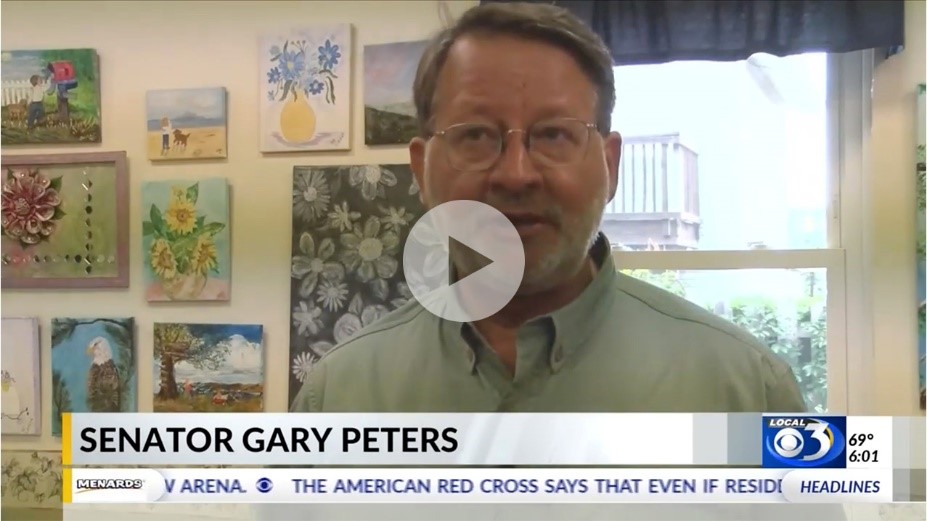 WJMN Marquette: Sen. Peters Visits Ishpeming Senior Center, Discusses Plans to Expand Age-Friendly Communities
"Senator Gary Peters is in the Upper Peninsula this week. He is traveling around the state on his fourth annual motorcycle tour. He stopped yesterday at Engineered Machined Products in Escanaba. Today, Peters visited the Ishpeming Senior Citizens Center to discuss legislation on setting national standards for senior communities.
"'This senior center is a focal point for seniors, and seniors that have the opportunity to come in here are able to connect with a variety of services, but they need more resources, they need to have more tools,' said Peters. 'I have had personal issues with my own elderly parents as to how difficult it is, particularly [when] they want to age in place and stay at home, but also come to places like the senior center here.'"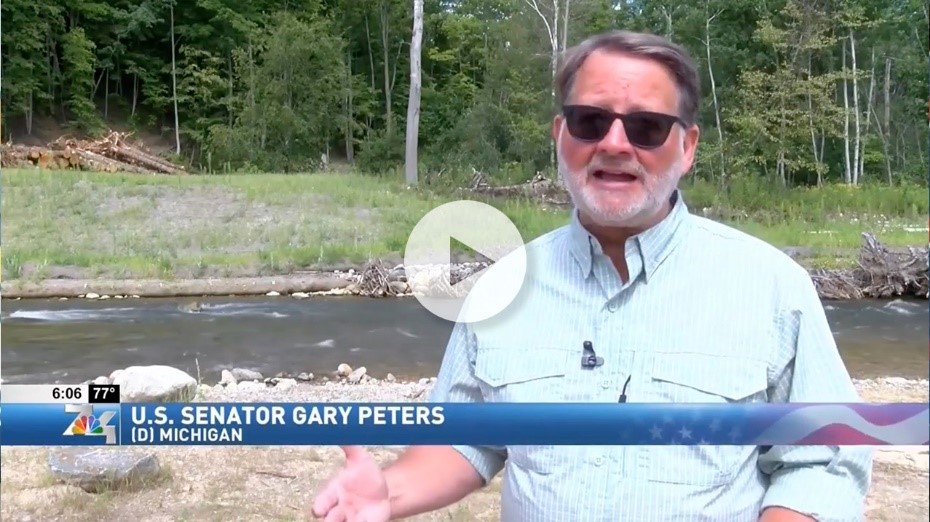 WPBN Traverse City: Senator Peters Views Progress of Boardman River Project, Touts GLRI
"U.S. Senator Gary Peters was in Traverse City today as part of his motorcycle tour across the state. Today, he traded in the handlebars and asphalt for paddles and waves as he kayaked along the Long Pine Trail while in Traverse City. Peters also saw the progress of the Boardman River Watershed Restoration Project.
"'To be able to go out here today, to see it and actually get in the water and kayak, it is an amazing resource,' said Peters. 'This is so exciting to see what's happening here in the Boardman River and the Traverse area, and it's really a testament as to how important Great Lakes Restoration Initiative dollars are.'"
WXMI FOX 17 West Michigan: Sen. Peters calls for more CBP officers at Ford Intl. Airport during motorcycle tour
"U.S. Senator Gary Peters was in Grand Rapids today as part of his statewide motorcycle tour. Peters discussed the need for more Customs and Border Patrol officers. He is [the] Ranking Member on the [Senate] Homeland Security Committee, and has introduced a bill that would authorize six hundred new CBP officers per year until the shortfall is all met.
"'It is critical. Folks have to realize just how difficult the job that the CBP is engaged in and the Department of Homeland Security. As I mentioned, there isn't anything more important than keeping our borders secure and safe, but at the same time, you have to move people and cargo as efficiently as possible.'"
WOOD TV Grand Rapids: Touring Ford International Airport, Peters Highlights Bill to Increase CBP Hiring
"…Peters says the busiest international border crossing is in Texas, but the next two busiest are right here in Michigan. Peters took his border security push on the road this week, riding a motorcycle around Michigan to see the situation for himself. He stopped at the Gerald R Ford International Airport this morning to check out operations there as well.
…
"'We need to have more CBP officers, more agricultural inspectors – there's a shortage around the country,' said Peters. 'It's a priority of mine to make sure in Michigan the Department of Homeland Security can keep us safe first and foremost, but also move us quickly and efficiently so commerce can go forward.'"
###