DIMONDALE, MI – U.S. Senator Gary Peters (MI), Chairman of the Homeland Security and Governmental Affairs Committee, stopped in Dimondale today where he concluded his annual motorcycle tour across Michigan. Peters hosted National Cyber Director Chris Inglis at the Michigan State Police Headquarters to tour the Michigan Cyber Command Center, along with the Michigan Department of Technology Management and Budget, and discuss successful efforts to strengthen our nation's cybersecurity defenses, including by bolstering coordination at the federal, state and local levels. U.S. Representative Elissa Slotkin (MI-08) also joined Peters and Inglis.
Peters has passed several pieces of cybersecurity legislation into law – including his historic, bipartisan bill to require critical infrastructure owners and operators to report to the Cybersecurity and Infrastructure Security Agency (CISA) if they experience a substantial cyber-attack or if they make a ransomware payment. Peters also passed a bill into law to encourage better information sharing between the federal government and state and local governments that have limited resources to block sophisticated cyber-attacks. Peters also helped secure $1 billion in funding for state and local governments to deter attacks and modernize their information technology systems as a part of the bipartisan infrastructure law.
"There is no better way to see everything that Michigan has to offer than while riding a motorcycle – and my annual motorcycle tour has allowed me to hear firsthand on the issues important to Michiganders – including cybersecurity," said Senator Peters.
"Increasingly complicated cyber-attacks on everything from state and local networks to federal information technology systems show why our nation must have adequate resources and qualified personnel to defend against criminal hackers and foreign adversaries for years to come," Peters continued. "I'm proud to have passed bills into law that bolster cybersecurity at every level of government, and ensure we are prepared to prevent cyber-attacks that continue to disrupt lives and livelihoods, and threaten our national security. It was a pleasure to welcome National Cyber Director Inglis to Michigan today to see firsthand the vital work being done at Michigan State Police Headquarters and highlight the importance of coordination across levels of government to deter cyber-threats. I'll continue to work alongside him to bolster our cybersecurity defenses."
"I was pleased to accept Chairman Peters' invitation to Dimondale, where we had the opportunity to meet with Colonel Gasper and Director Lange at Michigan State Police Headquarters," said National Cyber Director Inglis. "Effective cyber defense requires a whole-of-nation approach, and the work I saw first-hand today at the Michigan Cyber Command Center is a critical piece of this collaborative defense. State, local, Tribal and territorial governments provide many of the essential services Americans rely on each and every day, and I look forward to continuing to partner with those on the ground and in Congress to create a cyber ecosystem in which our adversaries have to beat all of us in order to beat one of us."
"It was an honor to host Senator Peters, Representative Slotkin and Director Inglis at the Michigan State Police Headquarters today to view our critical cybersecurity efforts firsthand," said Col. Joe Gasper, Director of the Michigan State Police. "We are thankful to our federal partners for their support and for working to pass key legislation into law that ensures improved coordination between all levels of government when it comes to preventing cyber-attacks. We applaud their efforts and are grateful for their partnership to protect Michiganders."
"Cyber-attacks are a dangerous threat that requires collaboration and partnerships in order to protect Michiganders," Michelle Lange, Acting Director of the Michigan Department of Technology, Management & Budget. "The great relationship we have with our partners in the federal government, including Senator Peters, is imperative to protecting the sensitive information entrusted to state government. It is clear through both our conversations and his work as the chairman of the Senate Homeland Security and Governmental Affairs Committee that there is an understanding of the importance of this issue and the need to take strong action to deter these sophisticated attacks."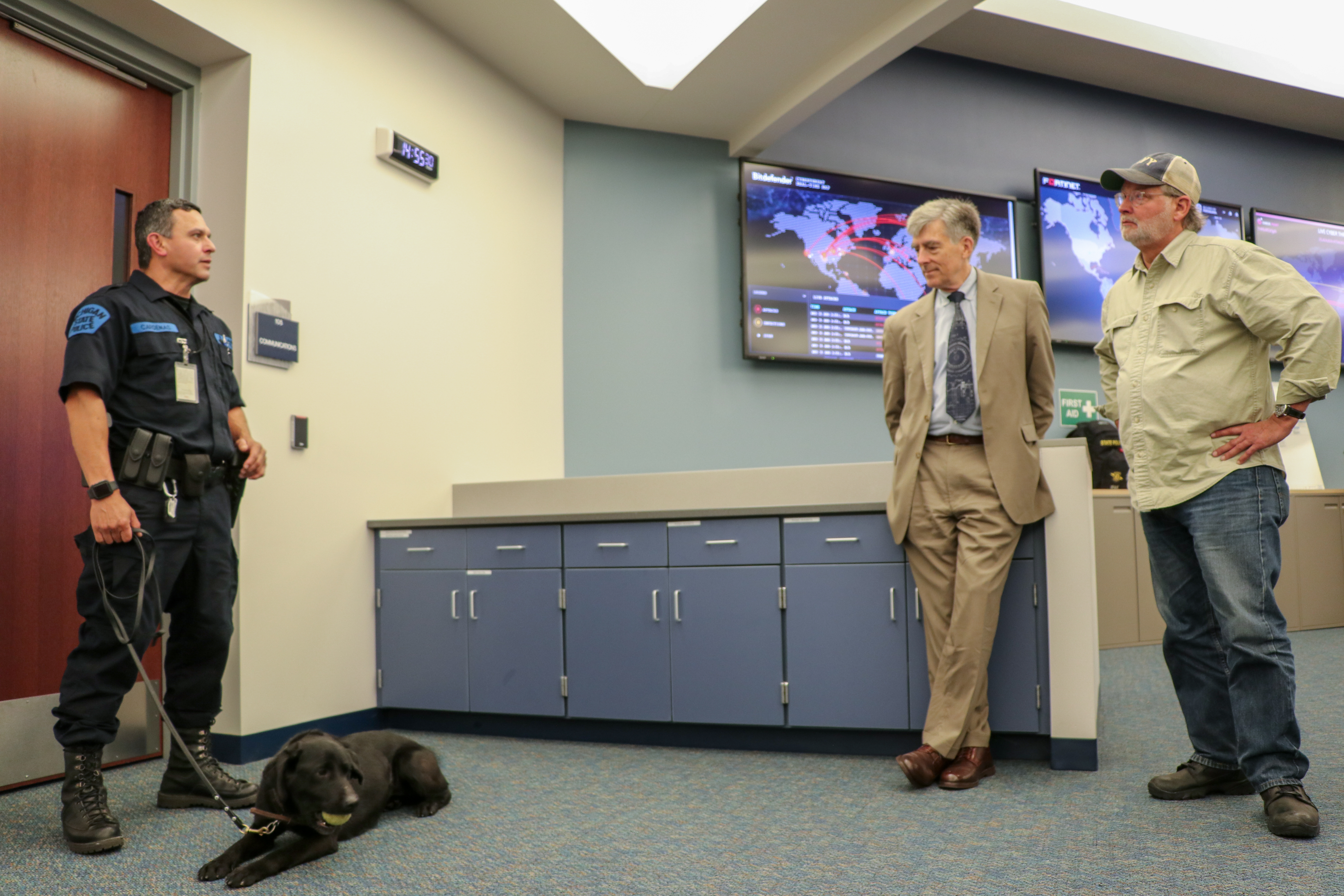 To download photos from Peters' stop in the Lansing area, click here.
Throughout the tour, Peters, who is an avid motorcycle rider, highlighted progress for Michiganders on issues important to them, including: expanding domestic manufacturing and creating good-paying jobs; ensuring our veterans can access the VA health care benefits they deserve; addressing shoreline erosion and rising water levels; investing in efforts to restore our Great Lakes; and strengthening our cybersecurity defenses.
Peters made stops previously in Muskegon, Traverse City, Munising and Hemlock. During the tour, Peters rode with veterans, motorcycle safety advocates, workers and constituents. Peters, who founded the bipartisan Senate Motorcycle Caucus, rode approximately 1,000 miles across the state.
###