TRAVERSE CITY, MI – U.S. Senator Gary Peters (MI) joined local leaders in veteran services at the American Legion Post 35 in Traverse City today to highlight the new VA benefits now available to veterans who were exposed to burn pits and other toxic chemicals during their service. Peters helped enact into law the Sergeant First Class Heath Robinson Honoring our Promise to Address Comprehensive Toxics (PACT) Act – which delivered VA health care and benefits to all generations of toxic-exposed veterans – and their survivors – for the first time in our nation's history. Peters was also joined by the mother of a local U.S. Marine Corps veteran who was diagnosed with a form of brain cancer in June as a result of his exposure to toxic substances while serving in Afghanistan.
"Many of our nation's heroes are suffering as a result of being exposed to harmful substances like Agent Orange or toxic burn pits during their service," said Senator Peters, a member of the Senate Armed Services Committee and former Lieutenant Commander in the U.S. Navy Reserve. "I was proud to help pass the Honoring Our PACT Act into law to finally ensure these veterans, along with their survivors, can obtain their long-overdue health care and benefits through the VA – and I'm pleased to highlight veterans can now apply to receive those benefits by visiting the VA's website today."
"While serving in Afghanistan – like many other post-9/11 veterans – my son Erik was exposed to toxic smoke radiating from the burn pits on his air base as well as other hazardous materials," said Lori Florip, mother of local U.S. Marine Corps veteran Sergeant Erik Florip. "As a result of his exposure to these toxic chemicals, Erik was diagnosed with high-grade Glioblastoma – or brain cancer – this past June. The PACT Act becoming law is so important because it will ensure that all veterans exposed to toxic substances can receive not only medical care through the VA, but also the critical disability benefits needed by veterans like my son who can no longer work due to his injury and serious medical challenges. So, thank you Senator Peters for helping to pass this consequential bill into law and for bringing us all together today to share how veterans can now apply for the disability and health care benefits they need."
"As Director of the Grand Traverse County VA, I work with and supervise Veteran Service Officers from across Grand Traverse County as well as Leelanau County to ensure they have the best information on-hand regarding VA health care plans, benefits and resources to share with the veterans in their communities," said Michael Roof, Director of the Grand Traverse County Department of Veterans Affairs. "Thanks to Senator Peters' efforts to help pass this bill into law, we can now get to work on ensuring all veterans in the area and state are aware of the benefits now available to them and work directly with them to process claims under the PACT Act."
"As one of the chief Veterans Service Officers for Charlevoix County, I have worked with many veterans who served in the Vietnam War, Gulf Wars, or post-9/11 who were exposed to toxic substances overseas and are now in need of critical medical care," said Joshua Galle, Director of the Charlevoix County Department of Veterans Affairs and Accredited Veterans Service Officer (VSO). "Now through the PACT Act, folks in my profession can more effectively do our jobs of ensuring every veteran can access the benefits and health care they need. I'm grateful to Senator Peters for his leadership in helping pass this bill into law – and encourage all veterans who need this care to contact your local VA and get your claim started."
Veterans can now file claims to apply for PACT Act-related benefits by calling the Veterans Administration (VA) at 800-698-2411 or filing a claim online for disability benefits and/or VA health care. For more information about the PACT Act, click here.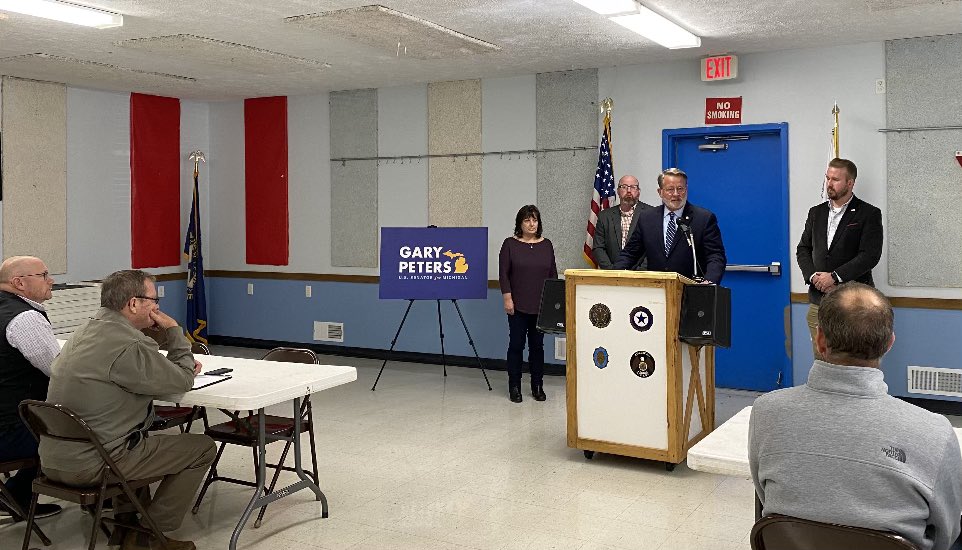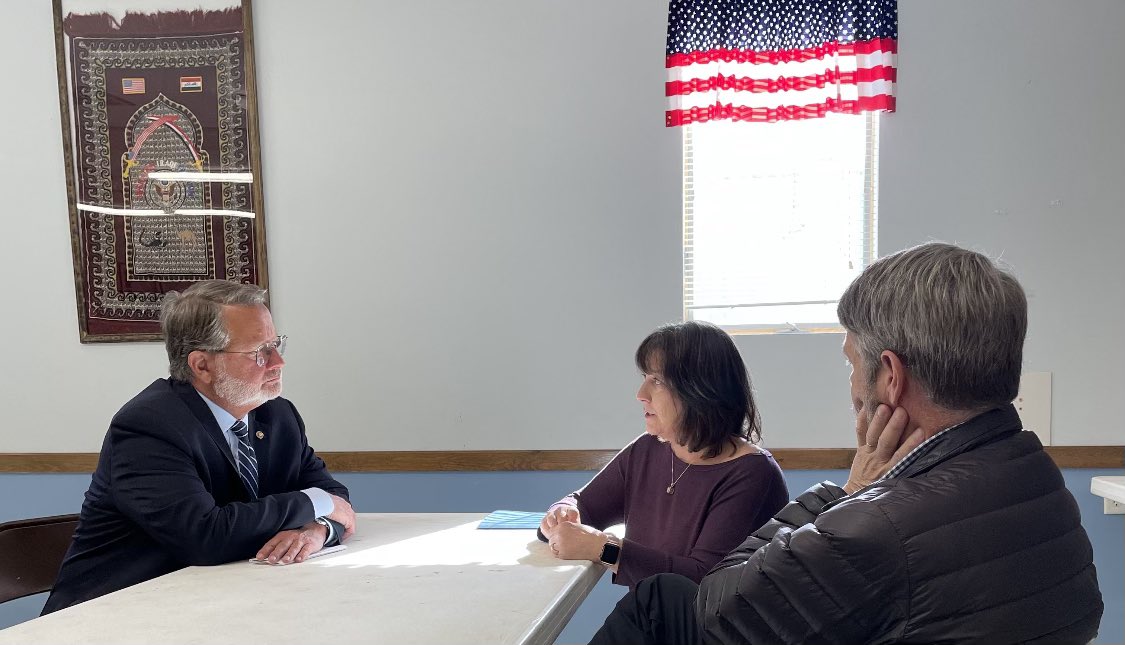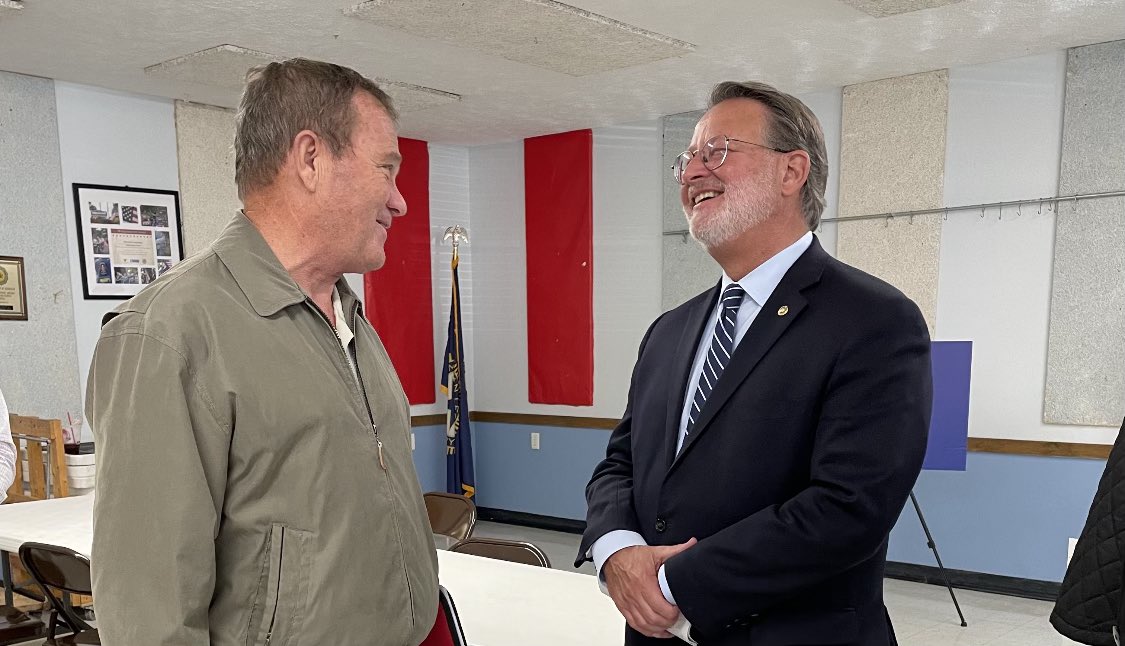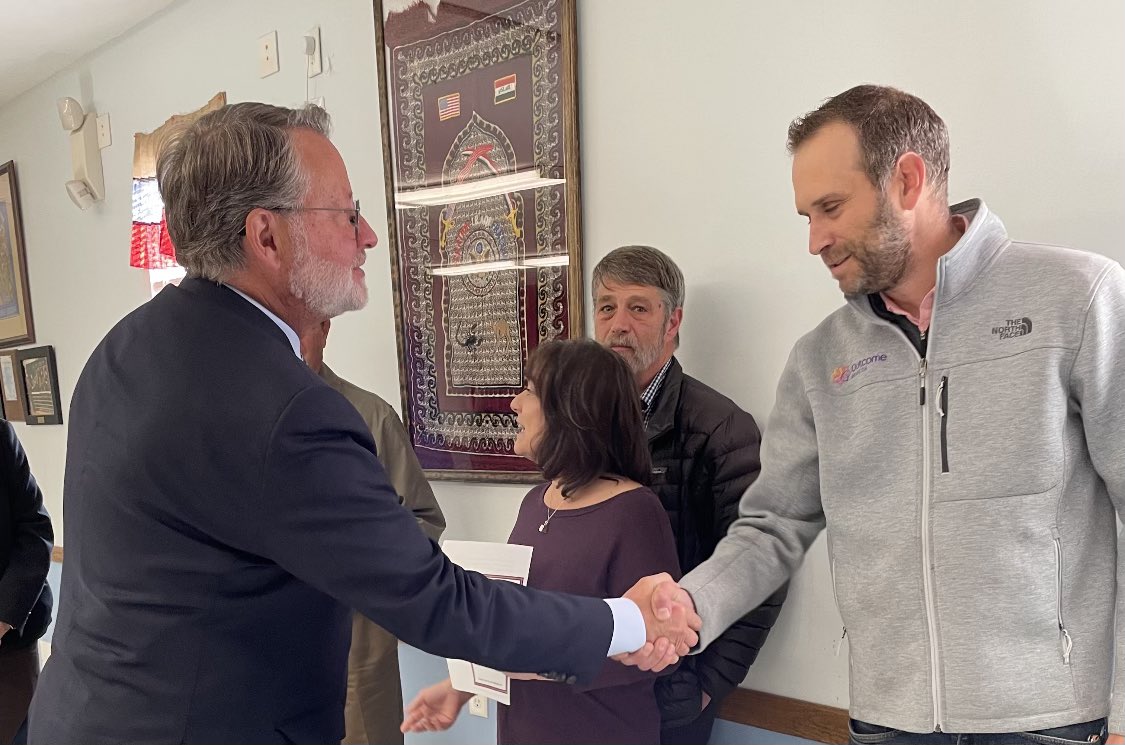 Senator Peters, local leaders in veteran services, and mother of local U.S. Marine Corps veteran Sergeant Erik Florip highlight new VA health care, benefits now available to all generations of toxic-exposed veterans at American Legion in Traverse City.
Peters is a strong advocate for Michigan's servicemembers and veterans. Last year, Peters was inducted into the Michigan Military and Veterans Hall of Honor for his efforts to support our nation's veterans and military. In 2017, Peters was recognized as Legislator of the Year by the Vietnam Veterans of America for authoring the bipartisan Fairness for Veterans Act, which was signed into law. The legislation requires veteran discharge review boards to give liberal consideration to petitions for honorable discharge status if the servicemember has been diagnosed with PTSD, TBI or other related conditions connected to their military service. As of the fall of 2020, more than 1,500 veterans have had their discharges upgraded since his legislation was enacted.
Peters also introduced bipartisan legislation to protect veterans exposed to toxic chemicals during their service. The Burn Pits Accountability Act would require that servicemembers be assessed for exposure to open toxic burn pits as part of their routine health exams, as this exposure has been known to lead to cancer, cardiovascular toxicity, reproductive issues and neurological damage for numerous Afghanistan and Iraq War veterans.
###