WARREN, MI – U.S. Senator Gary Peters (MI) today highlighted new federal resources he secured for Macomb County with Macomb County Executive Mark Hackel, Major General Darren Werner, Senior Commander for the Detroit Arsenal, and Macomb County Chamber of Commerce President and CEO Kelley Lovati.
Peters and the local leaders discussed $2.5 million in new federal funding Peters secured in the most recent government funding bill to help advance and complete the Mound Road/Detroit Arsenal Connector Project. These resources will be used for planning and final design of the project, which will strengthen a corridor that's home to the Detroit Arsenal, General Motors Tech Center, BAE Systems, General Dynamics Land Systems, as well as Stellantis and Ford plants up and down the corridor and a massive supply base and supporting industry. These new federal funds build on a previous $98 million federal grant from the U.S. Department of Transportation to revamp Mound Road, which Peters strongly supported and advocated for – including directly in conversations with the former Secretary of Transportation.
The project is located on 5 miles of the 8-lane Mound Road Industrial Corridor in the Cities of Warren and Sterling Heights. According to Macomb County, it is responsible for more than 200,000 existing jobs, supports more than 70 major employers, and produces more than $8 billion in earnings based on jobs in the corridor.
"Macomb County is home to world-class innovators, manufacturers and workers and we need the world-class infrastructure to support them," said Senator Peters. "That's why I'm proud to have secured critical federal resources to help advance the Mount Road project – a major driver of our local economy. I'll continue to support economic engines in Michigan like this – which create good-paying jobs and bolster the industries with deep roots in our state's history like manufacturing, autos, and defense."
"The success of Innovate Mound can be seen in the strength of our partners," said Macomb County Executive Mark Hackel. "With the strategic insights of the Detroit Arsenal and the leadership of our federal partners, we have again brought critical resources back to Macomb County. I want to thank Senator Peters, and our entire delegation, for their commitment to supporting the Arsenal and this transformational road project."
"Our Detroit Arsenal is the center of gravity for ground combat systems in our Army. With these additional funds, it enables us to be a part of this Defense corridor in a better way," said Major General Darren Werner, Senior Commander for the Detroit Arsenal. "We will be able to unencumber Mound Road by expanding our gate out to get large vehicles with tanks and Bradleys and other types of equipment that come and go off the Arsenal in and out quicker, and without impeding the local community."
"The Mound Road project contributes a great deal to the local economy and these additional federal resources secured by Senator Peters will support local jobs here in Macomb County," said Macomb County Chamber of Commerce President and CEO Kelley Lovati. "I look forward to the completion of this critical project, which will help spur continued economic opportunity and modernize infrastructure in our community."
To download high-resolution photos from today's event, click here or on the images below.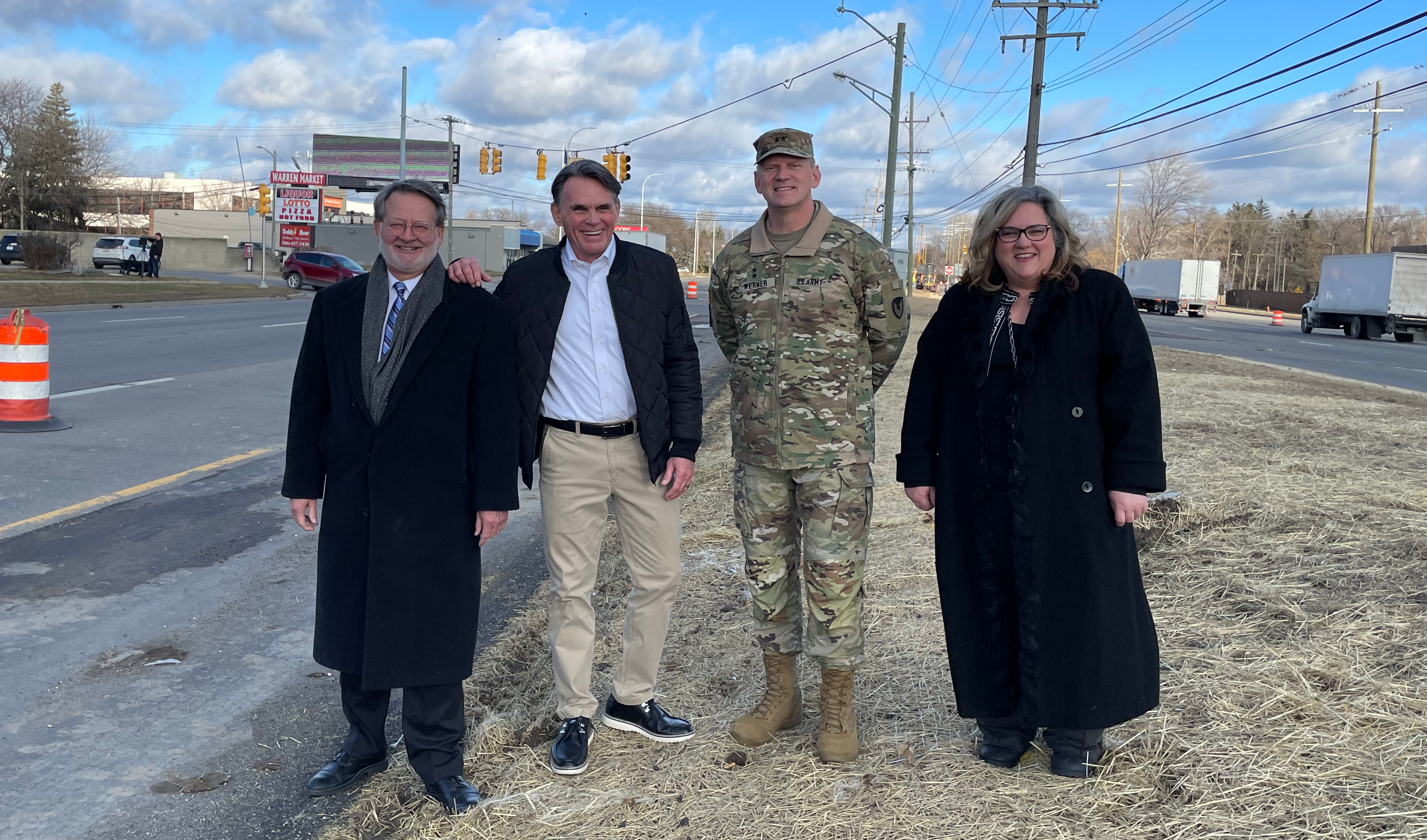 ###